I-895/Baltimore Harbor Tunnel Toll Plaza and Interchange Improvements Project
The Maryland Transportation Authority (MDTA), in coordination with the Federal Highway Administration (FHWA), is conducting a National Environmental Policy Act (NEPA) Study to evaluate proposed toll plaza and interchange improvements near the I-895 tunnel. The project area is within Baltimore City.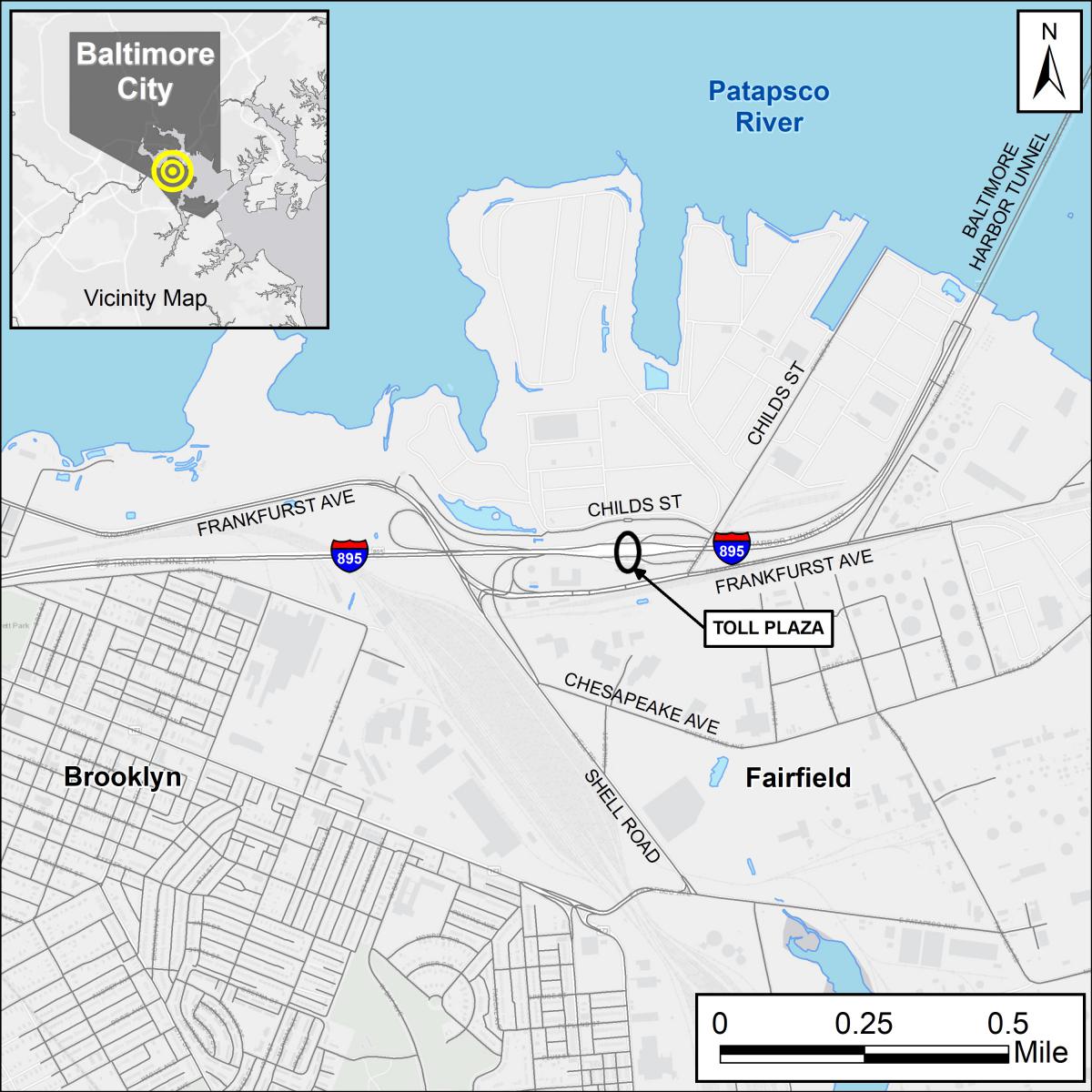 ANTICIPATED PROJECT SCHEDULE:

December 2020 - Virtual Public Meeting
Winter 2021 - Draft Environmental Document
Winter 2022 - Preliminary Engineering Final Environmental Document
Spring 2022 - 2024 - Final Design
2024 - 2027 - Phased Construction
PUBLIC COMMENT:
Thank you for visiting the I-895/Baltimore Harbor Tunnel Toll Plaza and Interchange Improvements Project webpage. If you would like to submit a comment, provide your comment by completing a comment card and clicking the submit button, downloaded by clicking the Comment button below, or by submitting a completed comment card via e-mail or U.S. mail to:
Mr. Carl Chamberlin, Project Manager
Division of Planning & Program Development
Maryland Transportation Authority
2310 Broening Highway
Baltimore, MD 21224
I895TollPlaza@mdta.maryland.gov

TITLE VI COMPLIANCE:
What Is Title VI?
Title VI, 42 U.S.C., * Section 2000d et seq., was enacted as part of the Civil Rights Act of 1964. Title VI-related statutes and regulations provide that no person shall on the ground of race, color, national origin, sex, English proficiency, or disabilities be excluded from participation in, be denied the benefits of, or be subjected to discrimination under any program or activity.
Why Is Title VI Important?
Title VI ensures that public services, including transportation, are provided in an equitable and nondiscriminatory manner.
Title VI provides opportunities for public participation in decision-making without regard to race, color, or national origin, including populations with Limited English Proficiency (LEP).
Please Fill Out a Survey
MDTA strives to involve all groups relevant to its project in its public involvement activities. Please fill out and submit a Demographic Information Survey (PDF Download) to assist MDTA in planning outreach to communities during the course of the project.
Filing a Complaint / Seeking Assistance
Should you need LEP assistance or if you believe MDTA is not meeting the expectations of Title VI, you may direct questions, concerns, or file a complaint with:
Ms. Sherrie Davis, Title VI LEP Coordinator
Division of Civil Rights and Fair Practices (CRFP)
Maryland Transportation Authority
2310 Broening Highway, 2nd Floor
Baltimore, MD 21224
Email: sdavis18@mdta.state.md.us
Phone: 410-537-6714
Fax: 410-537-1044
Download Free Adobe Acrobat Reader:
You will need Adobe Acrobat Reader to review these PDF documents. If you do not have a PDF viewer you can download a free version of Adobe Acrobat Reader at http://get.adobe.com/reader.