New Nice Middleton Bridge Project - Home
What's New
News Releases
November 21, 2019 - 12:59pm
January 17, 2018 - 9:30am
November 21, 2016 - 2:29pm
About the Project
The Maryland Transportation Authority (MDTA) is replacing the existing Nice-Middleton Bridge with a new bridge that will:
Double the vehicle capacity with four 12-foot-wide lanes, replacing the old bridge's two 11-foot-wide lanes

Improve safety by installing a barrier-separated median between east- and westbound lanes, adding two-foot shoulders and other improvements that meet current safety standards

Eliminate lane-shifting safety issues at toll booths by replacing them with all-electronic tolling

Enable tall ships to pass beneath its 135-foot clearance
With construction underway (July 2020), the new bridge is scheduled to open in early 2023. Under MDTA's supervision, the $463 million design-build job is being performed by Skanska, Corman and McLean (SCM), a joint venture comprised of firms with local ties. 
All-Electronic Tolling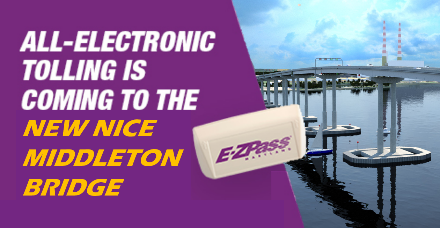 The new bridge will enable travelers to pay tolls at highway speeds with E-ZPass Maryland or  Video Tolling. Learn more about how all-electronic tolling (AET) works, the benefits of cashless tolling and how to get an E-ZPass Maryland transponder.