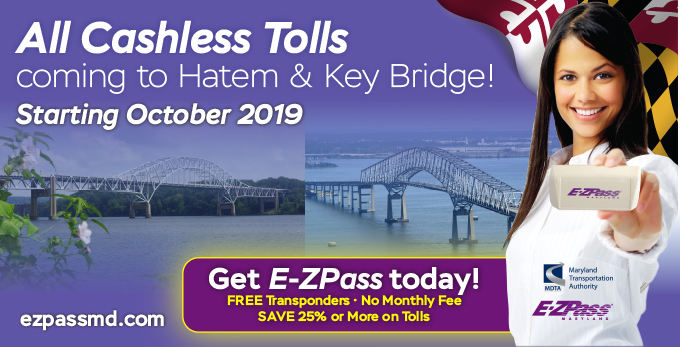 Cashless Tolling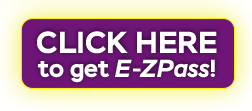 Motorists pay cashless tolls via E-ZPass® or Video Tolling. The Maryland Transportation Authority (MDTA) has been an industry leader by instituting cashless tolling at the Intercounty Connector (ICC)/MD 200 in 2011 and the I-95 Express Toll Lanes (ETL) in 2014.
Benefits:
25% or more savings on toll rates for all E-ZPass Maryland customers
Less idle time results in better fuel efficiency, savings at the pump
Time – less congestion, increases reliability, faster commute
Free transponders and no monthly fees
Increases safety, reduces crashes
How Do I Get an E-ZPass?
Online at www.ezpassmd.com
E-ZPass Customer Service Centers
E-ZPass "On the Go" is available at most MDOT MVA locations and participating retailers.
Attend an E-ZPass Outreach Pop-Up Event, see table below:
Date

Location

Time

Tuesday, October 1

Perryville Library

4:00 – 6:30 p.m.

Friday, October 4

North Point Library

1:00 – 3:00 p.m.

Wednesday, October 9

Havre de Grace Library

12:30 – 3:30 p.m.

Brooklyn Park Library

6:30 – 8:30 p.m.

Tuesday, October 15

Glen Burnie Library

12:30 – 3:30 p.m.

Thursday, October 17

Rosedale Library

11:30 a.m. – 2:00 p.m.

Monday, October 21

Essex Library

4:00 – 7:00 p.m.

Wednesday, October 23

Linthicum Library

4:30 – 7:30 p.m.
Visit ezpassmd.com for a complete list of retail locations.
Open House Materials:
Additional information: