Employment
Opportunities
We are thrilled that you are considering joining our team and becoming part of our mission to provide safe, secure, and convenient transportation facilities for all Marylanders. At the Maryland Transportation Authority (MDTA) we believe that people are our greatest asset and offer a unique opportunity to work in a dynamic and challenging environment, where your skills and expertise can make a real difference. So, if you're ready to take your career to the next level and join a team of talented individuals, we invite you to explore out job openings and apply today!
You belong at the MDTA.  Apply now!
See a job that might be right for you? Please read the entire announcement carefully to ensure you meet the requirements.
Register
Complete your entire employment profile
Apply to current jobs
Remember that you must register and complete your entire employment profile completely and accurately before applying for a job in order to be considered.
Be sure to follow each instruction carefully, list all relevant education and experience, and address the specific qualifications shown on the job vacancy announcement. Applications not completely filled out will not be considered. Applications not received by the closing date for each position will not be considered. Please read each announcement carefully for specific qualifications and instructions.
MDTA employees receive a comprehensive compensation and benefits package. Below are some of the benefits offered-
Paid leave (vacation, personal, and sick) and paid holidays
Health insurance including medical, dental, prescription drug, and vision coverage
Pension plans
Tax-deferred savings plan
Life insurance
Behavioral health support
Continuous training and development
Tuition reimbursement
Learn more about the benefits of working for the Maryland Transportation Authority and the State of Maryland Government System.
MDTA is proudly committed to fostering a culture that values a diverse and inclusive workforce. Visit the websites linked below to learn more about the State's resources for recruiting, retaining and promoting a diversified workforce.
The Office of Human Resources and Workforce Development is committed to ensuring the MDTA mission and values are met through our employees. We strive to ensure that any new team member is not only a great fit for the MDTA but that the MDTA is a great fit for you! We are proud to be part of an organization that focuses on its employees and their professional development.
For additional information regarding job opportunities and employment benefits, please contact our office at:
Human Resources & Workforce Development
Recruitment & Examinations Unit
mdtarecruitandexams@mdta.state.md.us
410-537-7557
TTY Users: Maryland Relay

Veterans/Military Community Resource & Hiring Event 
Location:
Baltimore War Memorial 
101 N Gay St D, Baltimore, MD 21202 
Date:
Thursday, September 21, 2023 
Time:
10 am – 1 pm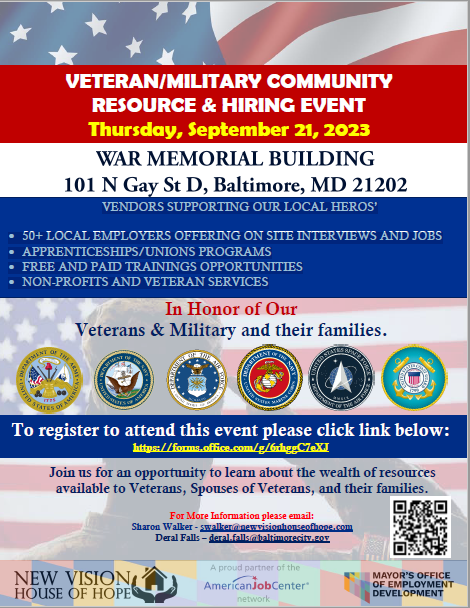 VENDORS SUPPORTING OUR LOCAL HEROS:
50+ LOCAL EMPLOYERS OFFERING ON SITE INTERVIEWS AND JOBS
APPRENTICESHIPS/UNIONS PROGRAMS
FREE AND PAID TRAININGS OPPORTUNITIES
NON-PROFITS AND VETERAN SERVICES
To register to attend this event please click link below: 
https://forms.office.com/g/6rhggC7eXJ
Additional info:

Susquehanna Workforce Network Harford County Job Fair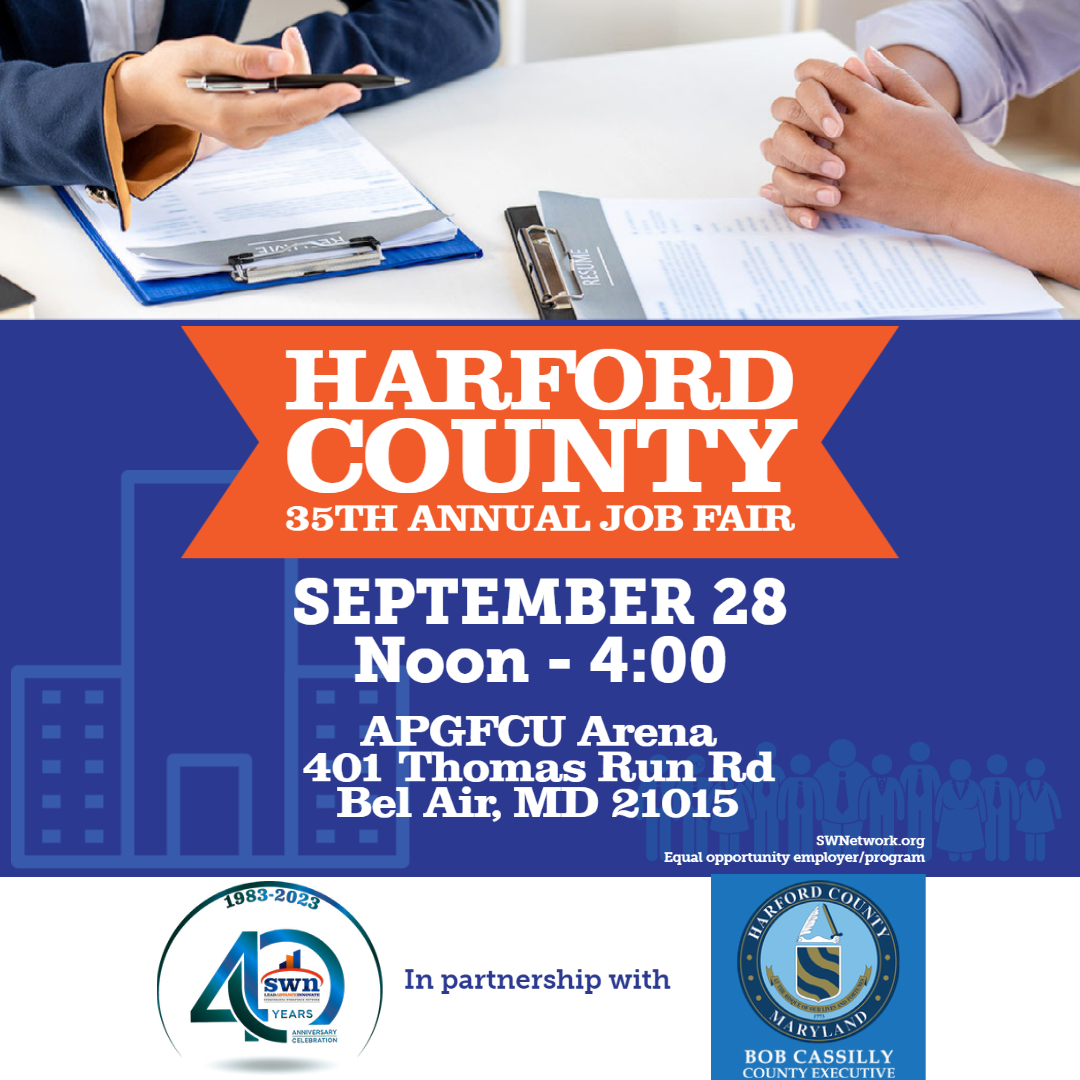 Location:
APG Federal Credit Union Arena at Harford Community College
401 Thomas Run Rd, Bel Air, MD 2115
Date:
Thursday, September 28, 2023
Time:
12 pm – 4 pm
Connect with area businesses at the Harford County Job Fair at the APGFCU Arena, 401 Thomas Run Rd, Bel Air, MD 21015. Over (70) businesses are expected to attend. 
Register at: https://www.swnetwork.org/job-fair/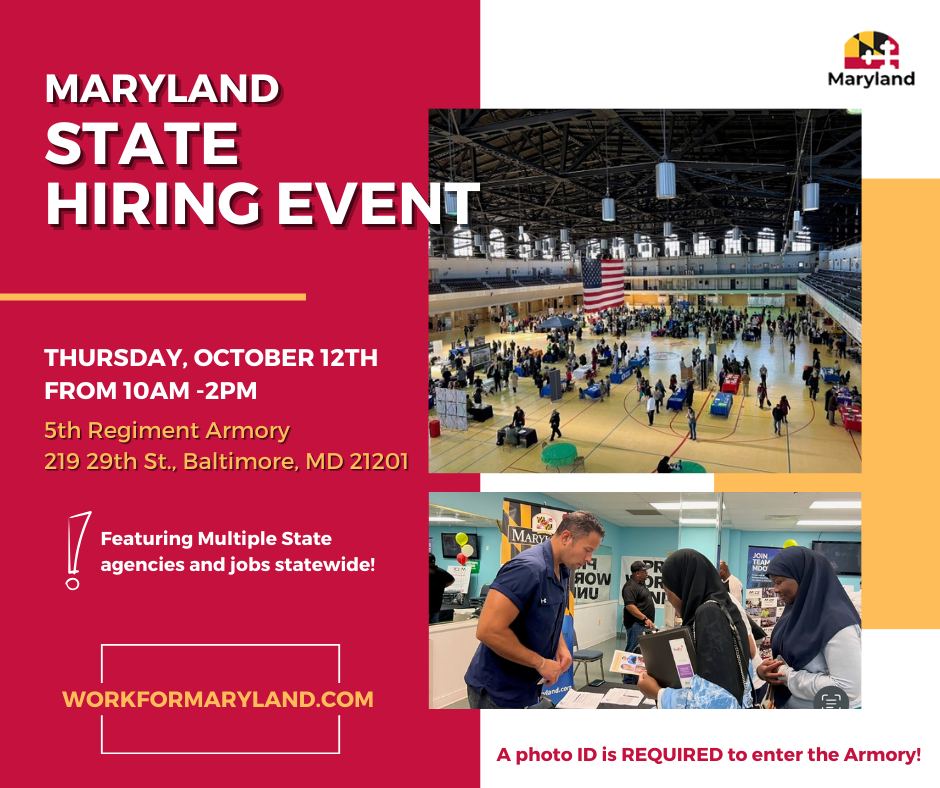 FEATURING MUTIPLE STATE AGENCIES AND JOBS STATEWIDE.
October 12th, 2023
10:00am - 2:00pm
5th Regiment Armory
219 29th Division Street, Baltimore MD 21201
*A valid photo ID is REQUIRED to enter the Armory!