William Preston Lane Jr. Memorial (Bay) Bridge All Electronic (Cashless) Tolling
In May 2020, the Maryland Transportation Authority (MDTA) began collecting tolls via highway-speed all-electronic tolling (AET) at the Bay Bridge (US 50/301). With cashless toll collection, there's no slowing or stopping to pay tolls. Instead, motorists pay tolls at highway speed via E-ZPass, Pay-By-Plate or Video Tolling. Benefits include increased safety, less engine idling and better fuel efficiency.
In addition, crews improved the roadway configuration in that area of the former toll plaza to support the new Automatic Lane Control System (ALCS) and critical safety inspections performed by the MDTA Police Commercial Vehicle Safety Unit. Work to install the ALCS at the Bay Bridge began in February 2020.
The ALCS elements include overhead lane-use signals, dynamic message signs, horizontal swing gates and illuminated pavement markers. In Fall 2022, the MDTA began a phased implementation of the Bay Bridge ALCS to familiarize motorists to the new system. This transitional period includes some manual support of the system, with cones and barrels still present.
To learn more about the Bay Bridge ALCS, please visit: https://mdta.maryland.gov/Capital_Projects/BayBridgeALCS
Automated Lane Closure System (ALCS) Simulation
Bay Bridge AET Gantry Along Eastbound US 50/301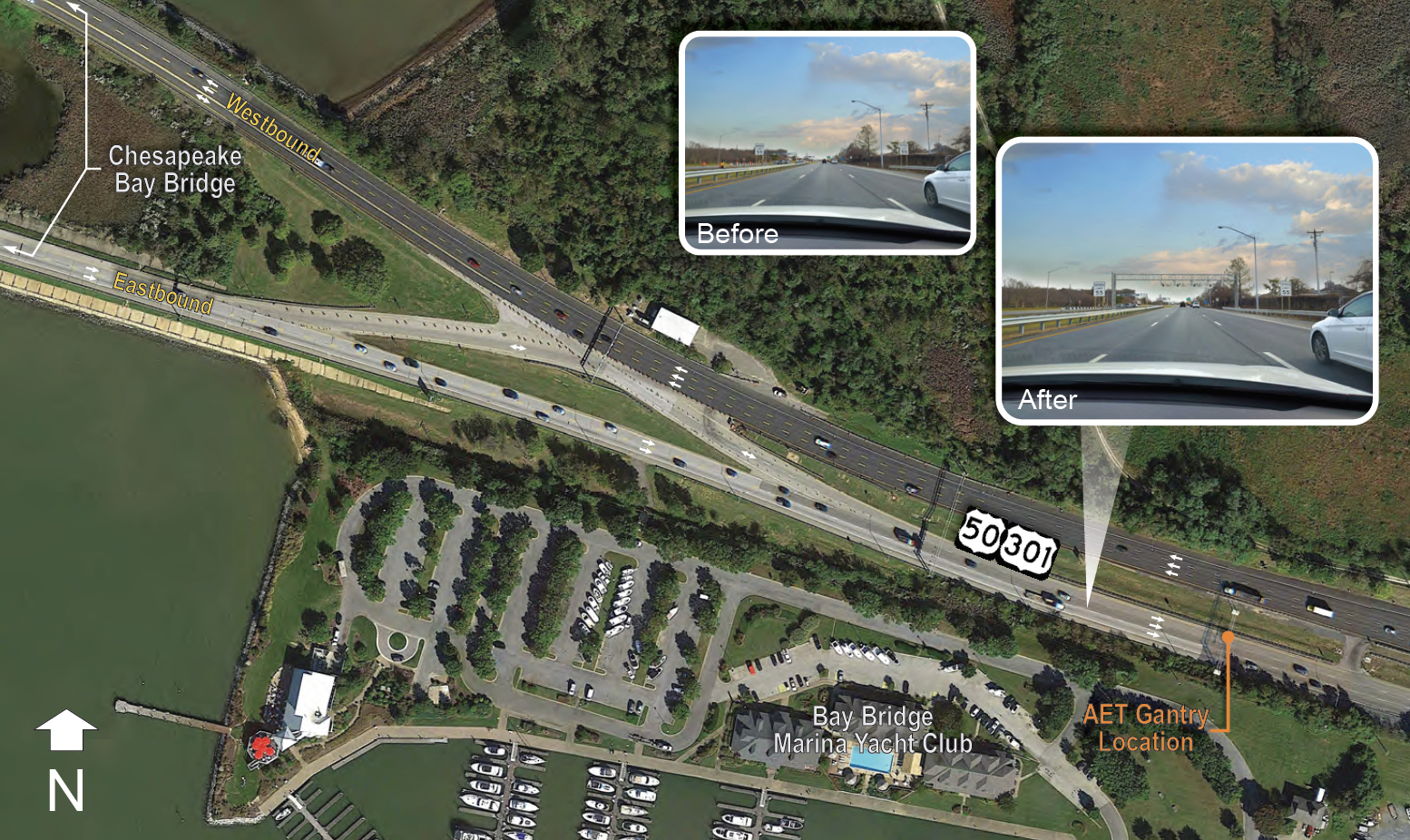 Bay Bridge AET Gantry Along Eastbound US 50/301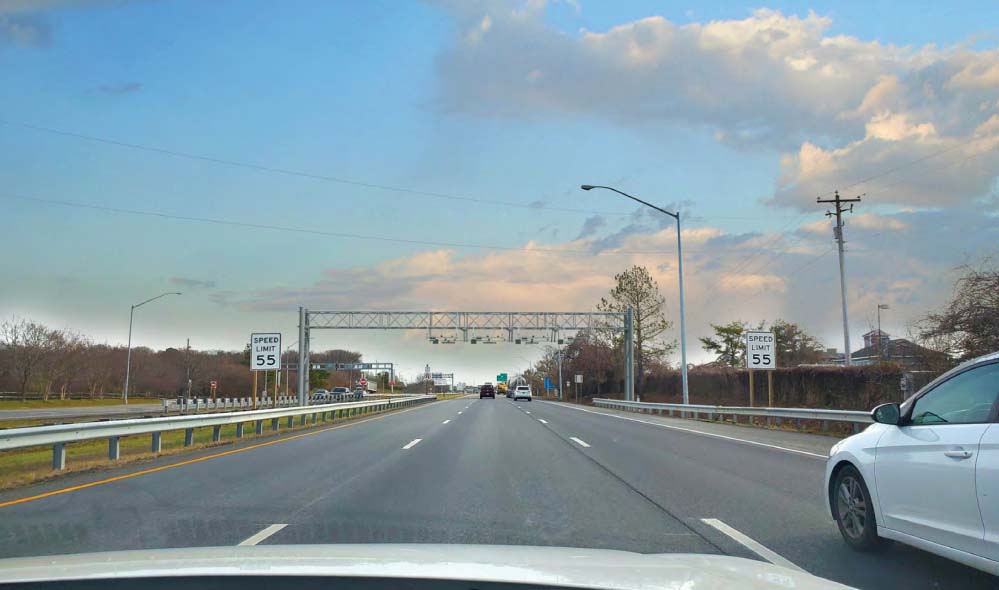 Bay Bridge Final Eastbound US 50/301 Configuration at Former Toll Plaza Site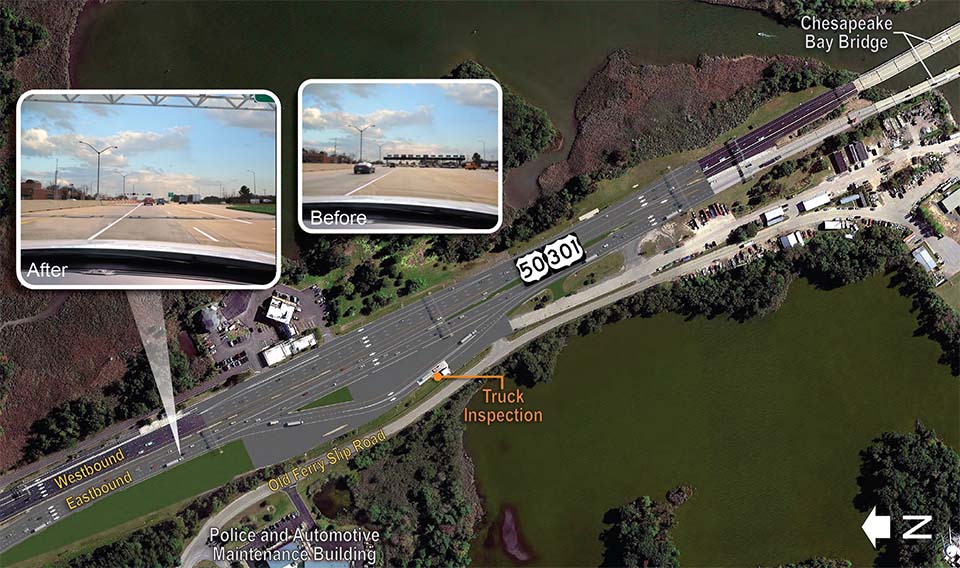 Bay Bridge Final Eastbound US 50/301 Configuration at Former Toll Plaza Site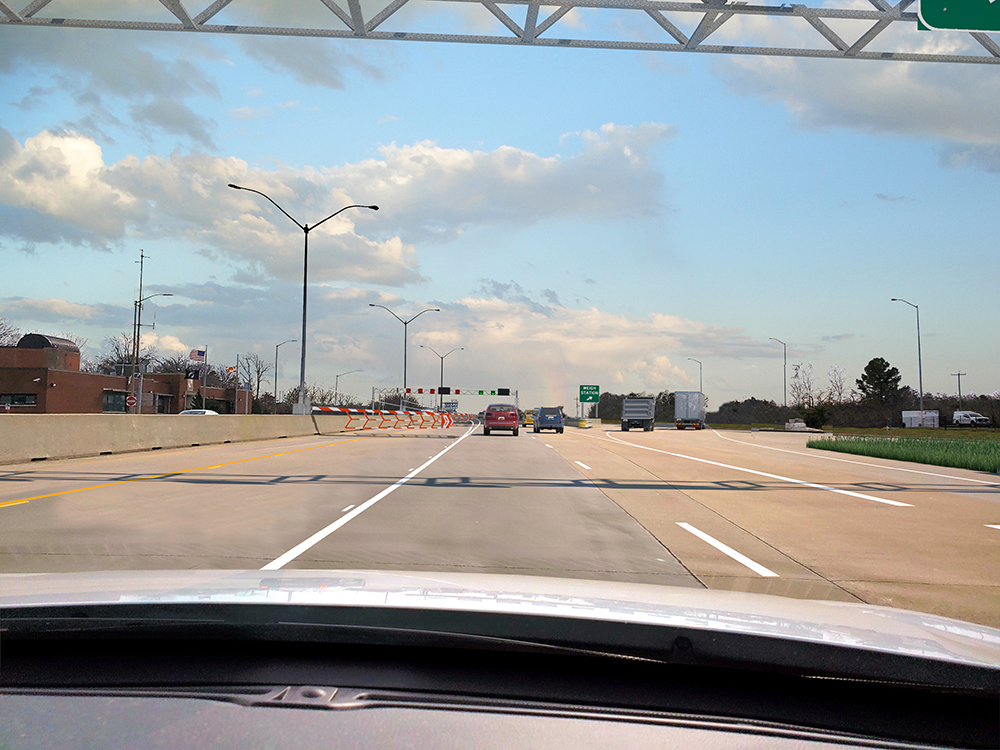 Bay Bridge US 50/301 Final Westbound Configuration with Automated Gates