Nice/Middleton Bridge All-Electronic (Cashless) Tolling
The Maryland Transportation Authority (MDTA) began all-electronic tolling (AET) construction work in Fall 2021 at the Nice/Middleton Bridge along southbound US Route 301. With AET cashless toll collection, there's no slowing or stopping to pay tolls. Instead, motorists pay tolls at highway speed via E-ZPass, Pay-By-Plate or Video Tolling. Benefits of AET include increased safety, less engine idling and better fuel efficiency.
The Nice/Middleton Bridge Replacement project will convert the existing toll plaza area into highway-speed lanes by removing the toll islands, booths, and canopy. The project will be completed in stages.
Nice/Middleton Bridge US 301 All-Electronic (Cashless) Tolling – Construction
Phase 1
Right and left lane closures along southbound US 301
Construction of tolling gantry and ITS/electrical equipment installation
Installation and testing of tolling equipment
Phases 2-3
Activation of overhead tolling gantry and highway-speed AET cashless tolling
Tolls collected in the southbound direction only
Two-way traffic will operate on northbound US 301
Shoulders will be closed through the project work area
Removal of toll booths, islands and canopy
Approach roadway construction to the new Nice/Middleton Bridge will continue.
Recent Project Updates
Since March 2022, two-way traffic has operated on the northbound US 301 lanes so crews can remove the toll plaza, which is no longer in service. Access to the E-ZPass Maryland Customer Service Center will remain from Orland Park Road until the new bridge opens.
Southbound shoulders are closed through the project work area.
Stay alert, obey posted speeds and keep moving through the work area.
Traffic delays are possible throughout the work area.
Tolls are now collected via an overhead electronic toll gantry located prior to the old toll plaza structure for southbound traffic only.
Always property mount your E-ZPass transponder and keep your account up to date to receive the lowest roll rate.
All-electronic tolling is statewide.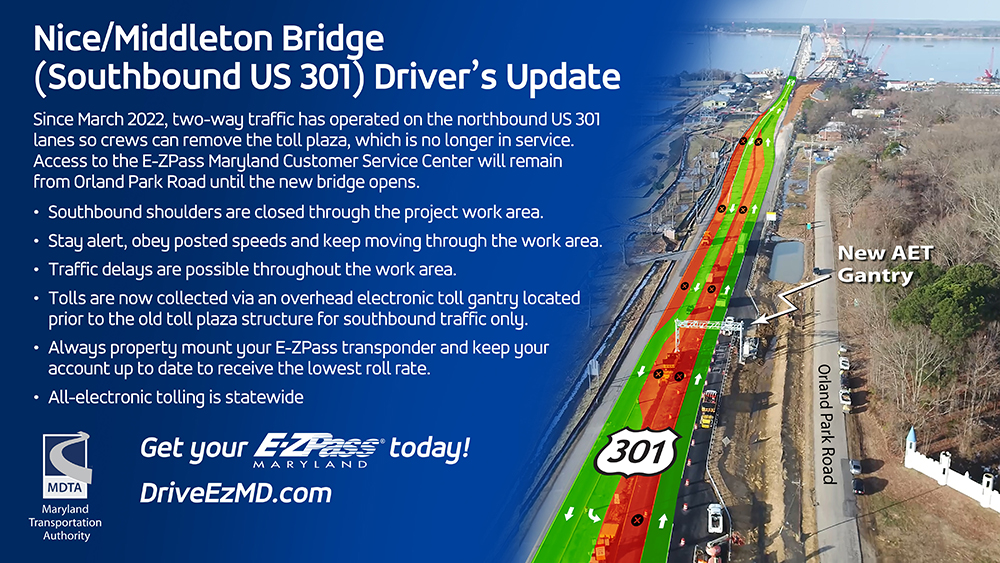 Nice/Middleton Bridge AET Toll Plaza Demolition
Nice/Middleton Bridge AET Gantry Installation (Video)
Nice/Middleton Bridge AET Configuration at Former Toll Plaza Site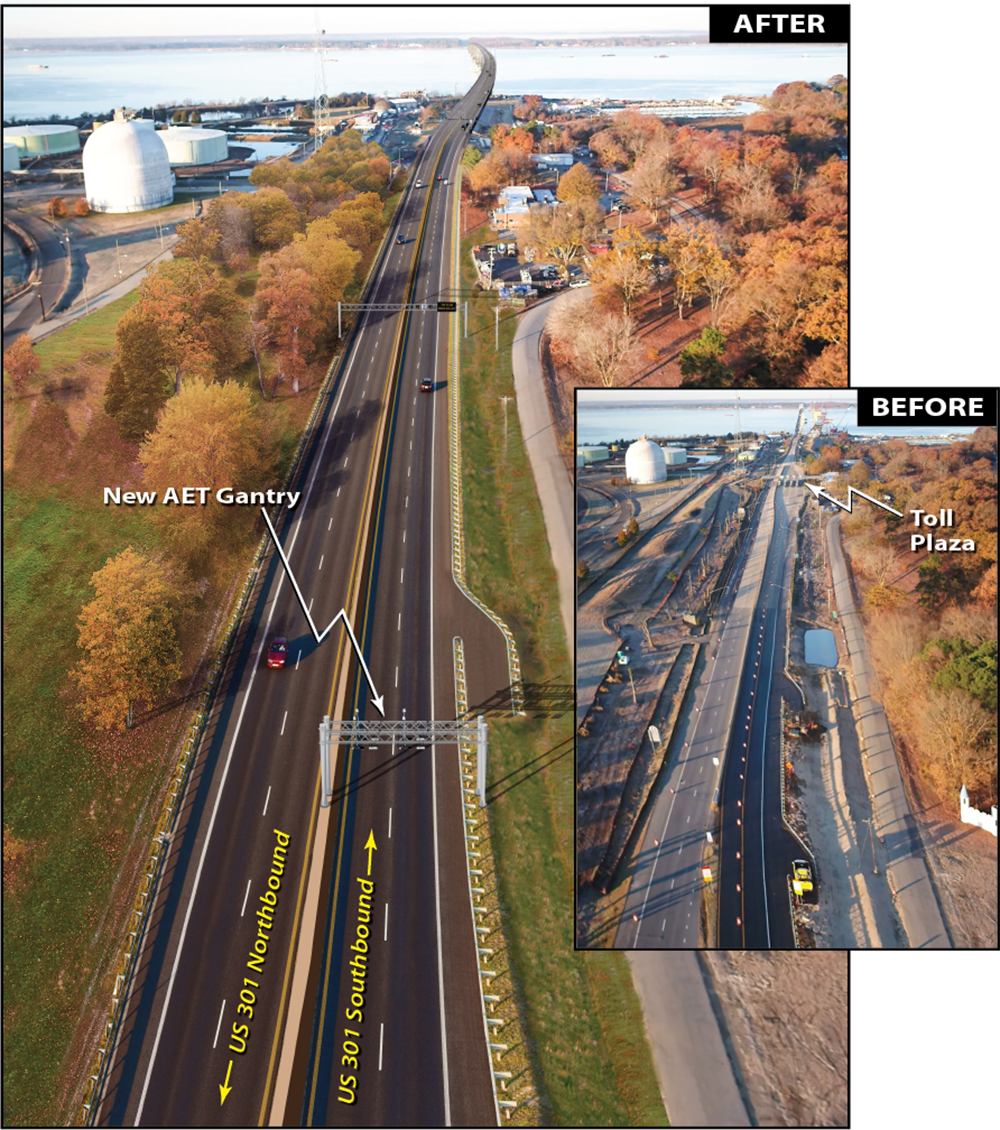 Nice/Middleton Bridge AET Gantry Along US-301 Southbound*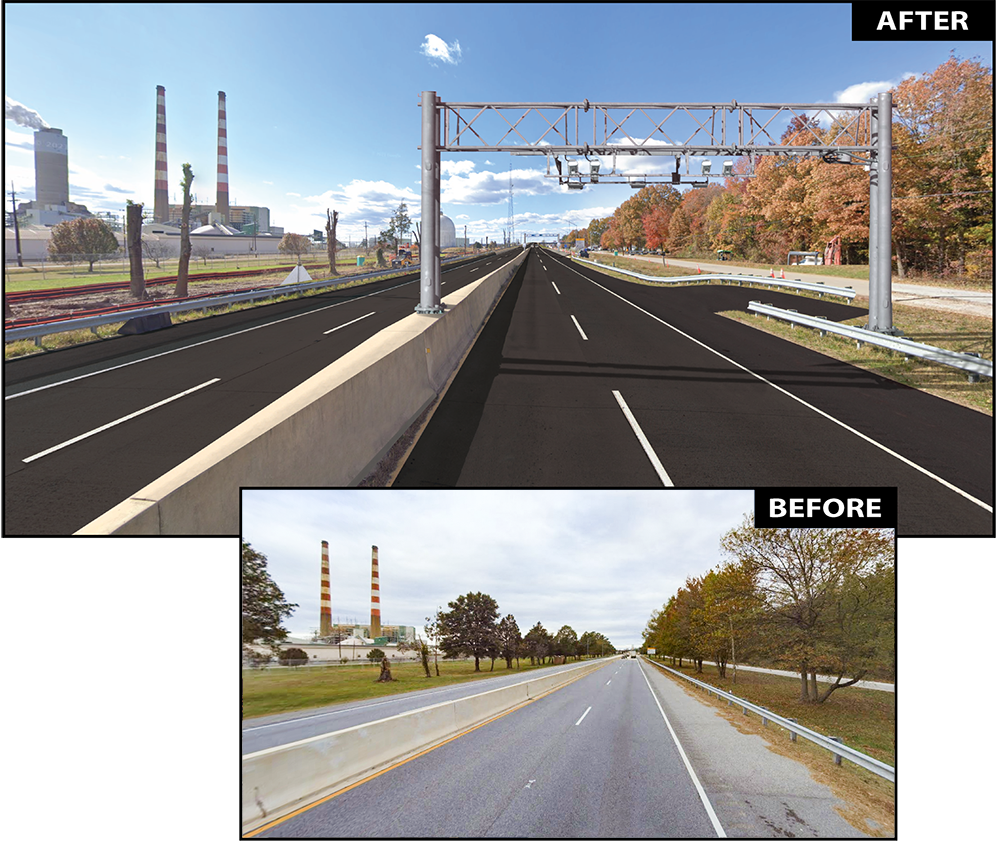 *New overhead electronic toll gantry is located approximately 1,200 feet prior to the former toll plaza structure.
Additional Information: