John F. Kennedy Memorial Highway (I-95) All Electronic (Cashless) Tolling
The Maryland Transportation Authority (MDTA) began all-electronic tolling (AET) construction work in May at the John F. Kennedy Memorial Highway (I-95) toll plaza. The project will implement highway-speed AET at the JFK toll plaza on an interim basis until permanent AET conversion can be designed and constructed.
The JFK project will convert the middle lanes of the toll plaza into highway-speed lanes by removing toll islands and booths. Beginning May 5 and continuing into September, the plaza's middle lanes – lanes 5 through 9 – will be closed 24/7, weather permitting, allowing safe and orderly flow of traffic while toll booths in lanes 6, 7 and 8 are removed. The canopy above lanes 6, 7 and 8 will also be removed.
Commercial vehicles and motorists using Exit 93 (MD 222) should keep to the right side of the toll plaza work zone. An overhead gantry with tolling equipment will be installed less than a mile south of the plaza. Off-peak lane closures and full-time shoulder closures will be necessary to complete the work to construct the overhead gantry. This work will eliminate the need for traffic to slow at the toll plaza and navigate between the narrow toll islands, resulting in safer and more efficient operations.
Once the work is completed in middle lanes of the toll plaza, northbound traffic will shift to the new lanes. With traffic in the new highway-speed lanes and the tolling gantry in operation, the MDTA will remove the remaining toll booths and canopy in lanes 9 through 12. These interim improvements are anticipated to be completed by early 2022.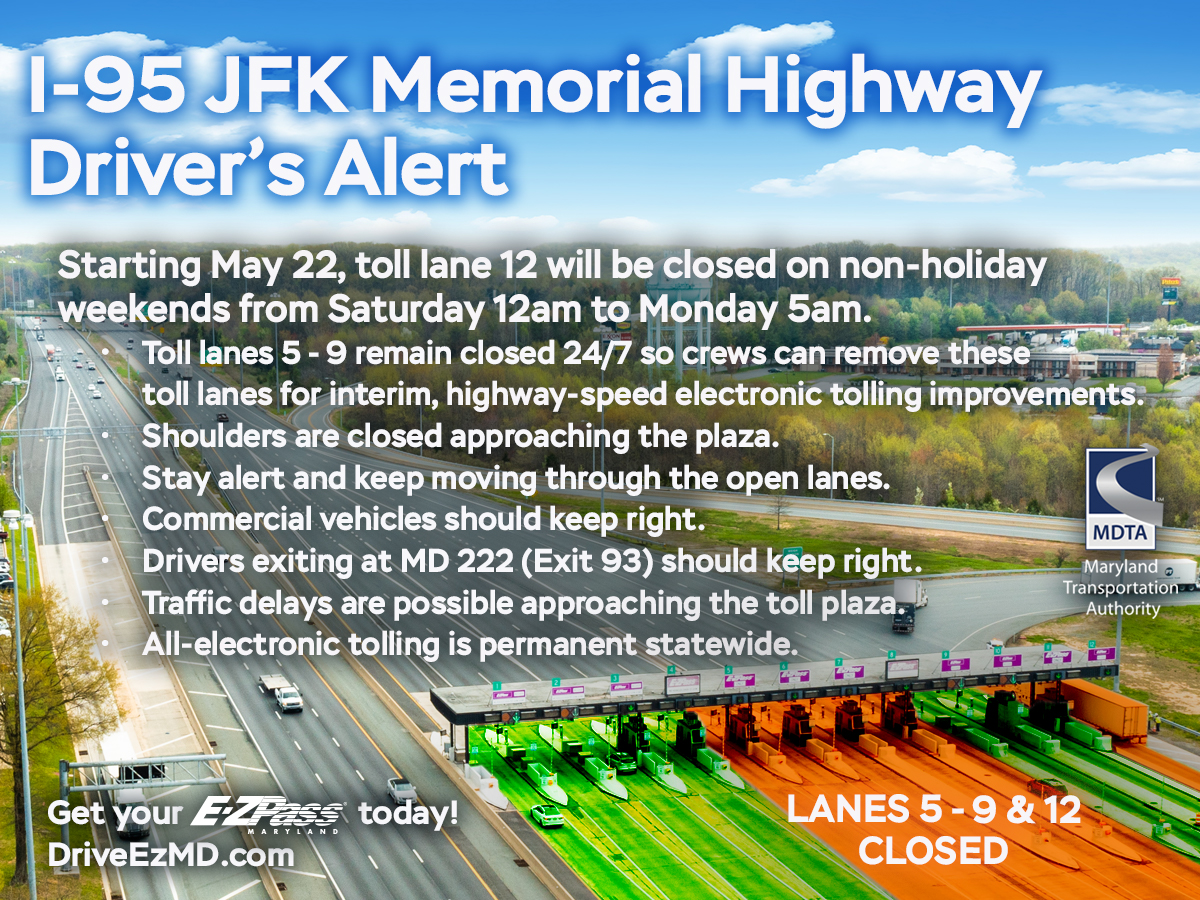 JFK (I-95) All Electronic (Cashless) Tolling – Construction
Phase 1
Removal of toll booth, island and canopy in lanes 6-8.
Construction of gantry and ITS/Electrical equipment installation.
Installation and testing of tolling equipment.
Phases 2-3
Removal of toll booth, island, and canopy in lanes 9-12.
Weigh station ramp construction.
Right side and left side barrier installation.
Milling and final pavement overlay
Additional Information: