FOR IMMEDIATE RELEASE
Contact: John Sales, 410-537-1017
E-ZPASS® OUTREACH EVENTS SCHEDULED
IN QUEEN ANNE'S & ANNE ARUNDEL COUNTIES
Sign Up Now For E-ZPass® Maryland Before All-Electronic Tolling Goes Into Effect
(February 20, 2020) – With all-electronic (cashless) tolling coming to the Bay Bridge (US 50/301) this summer, the Maryland Transportation Authority's (MDTA) E-ZPass®Maryland Outreach Team is hosting events to provide free E-ZPass®transponders and sign up new customers. At these events, shown in the chart below, customers can learn more about all-electronic tolling, what it means for motorists and its benefits.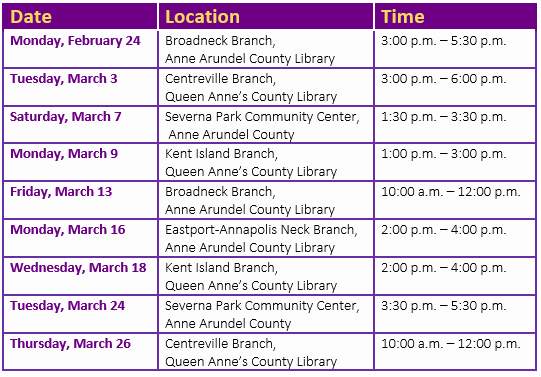 Sign up for E-ZPass® Maryland and take advantage of significant savings at the Bay Bridge. Commuters with an E-ZPass® discount plan pay as little as $1.40 daily to cross the bridge, compared to $6 for Video Tolling. Transponders are free, and there is no monthly fee for Maryland residents.
Pre-loaded E-ZPass® "On the Go" transponders are available at these events with a credit or debit card. Customers can use cash to open an account by visiting E-ZPass® Maryland Customer Service Centers at MDTA toll facilities, at many Maryland Department of Transportation Motor Vehicle Administration (MDOT MVA) locations and at retail partners. A full list of locations is available at ezpassmd.com.
The benefits of all-electronic tolling include less idling time for better fuel efficiency and reduced vehicle emissions, decreased congestion, increased driver safety and a safer work environment for employees. There has never been a better time to join E-ZPass® Maryland. With all-electronic tolling, cash is not accepted as payment. Drivers do not have to stop to pay tolls, as overhead gantries collect tolls electronically by E-ZPass®or Video Tolling. If you are interested in having the E-ZPass® Maryland Outreach Team visit your organization, business or event, please contact MDTA at 410-537-1017. For E-ZPass® account specific questions, contact the Customer Service Center at 1-888-321-6824.