VIDEO TOLLING
What is Video Tolling?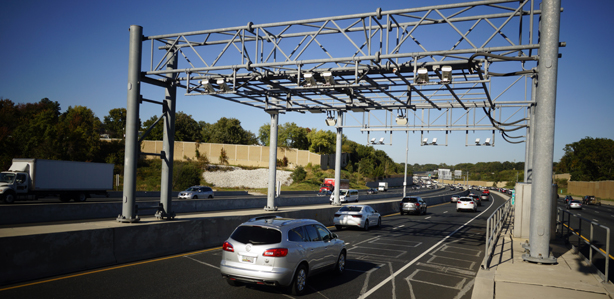 Video Tolling (sometimes referred to as video billing) is a form of electronic toll collection, which uses still images of a vehicle's license plate to identify a vehicle liable to pay a toll. The image is captured as the vehicle drives under the gantry or through a toll plaza at a toll-collection facility.
What is a Video Toll Transaction?
A Video Toll transaction occurs when a vehicle goes through a toll-collection facility in Maryland without paying the toll with cash or an E-ZPass account. The registered owner of the vehicle (using the address on file with the Maryland Department of Transportation Motor Vehicle Administration) is mailed a Notice of Toll Due (NOTD), to notify them of the payment due.
How is the Video Toll Rate Determined?
Video Toll rates at all Maryland toll facilities are 1.5 times the Cash/Base Rate, with a minimum of $1 and maximum of $15 above the Cash/Base Rate.
Pricing periods are peak, off-peak and overnight hours and days of the week when a particular mileage rate is in effect for all-electronic toll facilities. Peak period excludes federal holidays. Pricing periods may vary by up to 60 minutes earlier and later. Changes to the pricing periods may occur once travel patterns are assessed.

Peak Period: Mon - Fri: 6 a.m. – 9 a.m.;
4 p.m. – 7 p.m. (excluding federal holidays)
Off-Peak Period: Mon - Fri: 5 a.m. – 6 a.m.;
9 a.m. – 4 p.m.; 7 a.m. – 11 p.m.
Sat & Sun: 5 a.m. – 11 p.m.
Overnight Period: Sun - Sat: 11 p.m. – 5 a.m.

In Maryland, the Intercounty Connector (ICC)/MD 200 and the I-95 Express Toll Lanes (ETL) are AET roads, and cash is not accepted. Customers without a valid E-ZPass account will be charged the Video Toll Rate.
Video Tolling with E-ZPass
If you have E-ZPass, the Video Tolling system associates the license plate image with the account and debits the amount of the toll from the account.
I Have an E-ZPass Account, Why Did I Receive a NOTD?
Some of the most common reasons you may receive a NOTD if you have an E-ZPass account are:
Insufficient funds on your E-ZPass account at the time of the transaction;
The credit/debit card on the E-ZPass account has expired or was declined;
The license plate of the vehicle is not listed on your E-ZPass account and no transponder was detected during the transaction;
Your E-ZPass transponder was mounted improperly; or
Your E-ZPass account is a Hatem Bridge Choice "A" Only Account that is valid only at the Thomas J. Hatem Memorial Bridge (US 40).
Video Tolling without E-ZPass
Video Tolling allows drivers without E-ZPass to use the toll road and pay after receiving a mailed invoice, called a NOTD. However, a higher Toll Rate is charged for Video Tolling to offset the higher cost of processing Video Tolls. This process is called a Video Toll transaction.
I Do Not Own the Vehicle Shown On the NOTD. Why Did I Get this Notice?
Some of the most common reasons you may receive a NOTD for a vehicle you do not own are:
You leased or rented the vehicle at the time of the Video Toll transaction and the owner transferred liability to you, or
You accepted liability for the toll transaction in an affidavit filed with the Maryland Transportation Authority (MDTA) or the court.
For more information about Video Tolling, including payments, visit
DriveEzMD.com
.