BAY BRIDGE TRANSIT STUDY COMPLETE
Study Found Transit-Only Option Not
Viable in Terms of Either Cost-Effectiveness or Traffic Relief
Click Here to view the Bay Bridge Transit Study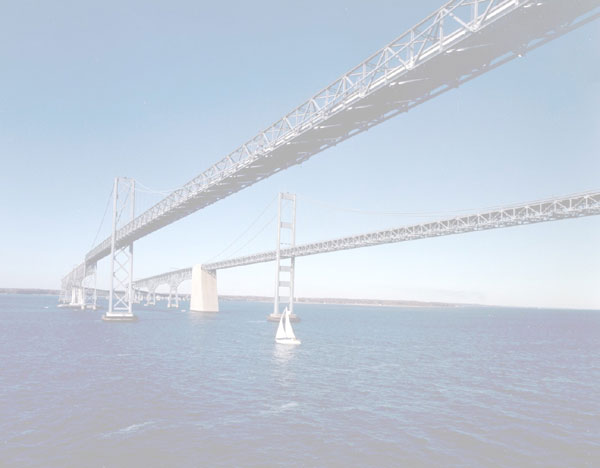 BALTIMORE, MD - The Maryland Transportation Authority (MDTA) today publicly released the Bay Bridge Transit Study, which analyzed transit-only concepts for addressing traffic-capacity needs across the Chesapeake Bay.
In cooperation with the Maryland Transit Administration (MTA), Authority staff focused on answering the following questions during the study:
Would people use a transit-only system across the Bay?
Would it be cost-effective?
Would it address Bay Bridge capacity needs without additional highway capacity?
Specifically, the study concluded that:
The forecasted transit ridership would not meet accepted thresholds for cost-effectiveness.
On a summer-weekend day, about 2,900 people would switch to transit by 2030, leading to 1,250 fewer cars traveling to the Eastern Shore (a 1.1 % reduction in vehicles).
For weekday morning rush-hours, about 870 people would switch to transit by 2030, leading to 620 fewer cars heading westbound (a 4.3 % reduction in vehicles).
Transit service alone will not provide significant relief to either weekday-rush or summer-weekend traffic congestion.
"Any successful strategy to address transportation demand across the Chesapeake Bay must involve a comprehensive approach, transit is just one component," said Transportation Secretary and Authority Chairman John D. Porcari. "Governor O'Malley has directed the Department of Transportation to evaluate the potential of ferry service, special excursion/express bus service, targeted road improvements along the US 301/US 50 corridor, and variable pricing and enhanced capability to clear incidents on the Bay Bridge. We also must link future land-use planning and transportation planning. An analysis of this comprehensive approach will help determine a course for the future."
During the study, Authority and Transit staff assumed transit-only concepts would use the existing Bay Bridge location and identified potential origin-destination combinations for both eastbound and westbound travelers - including Kent Island to Annapolis and Washington, D.C., to Ocean City. The team also developed basic cost estimates for heavy rail, light rail and bus rapid transit and evaluated Eastern Shore land use and population and employment densities.
"The Authority will continue its commitment to 'thinking outside the booth' as we manage existing capacity at the Bay Bridge by investigating innovations like open-road tolling," said Authority Executive Secretary Ronald L. Freeland.
Citizens can access the full report, "Analysis of Transit-Only Concepts to Address Traffic Capacity Across the Chesapeake Bay," at www.mdtransportationauthority.com. The study was initiated in fall 2006 upon recommendation by the Task Force on Traffic Capacity Across the Chesapeake Bay.
Other Resources:
The Maryland Transportation Authority is an independent State agency that finances, owns and operates the State's seven toll facilities. The Authority's eight Members, appointed by the Governor with consent of the State Senate, serve as the agency's policy-setting and governing body. Maryland's Secretary of Transportation serves as Authority Chairman.