LABOR DAY WEEKEND BOOKENDS A BUSY SUMMER
ON MARYLAND TOLL ROADS
Minimize Delays, Use Recommended Bay Bridge Drive Times
Drive E-Z with E-ZPass or Pay-By-Plate Payment Options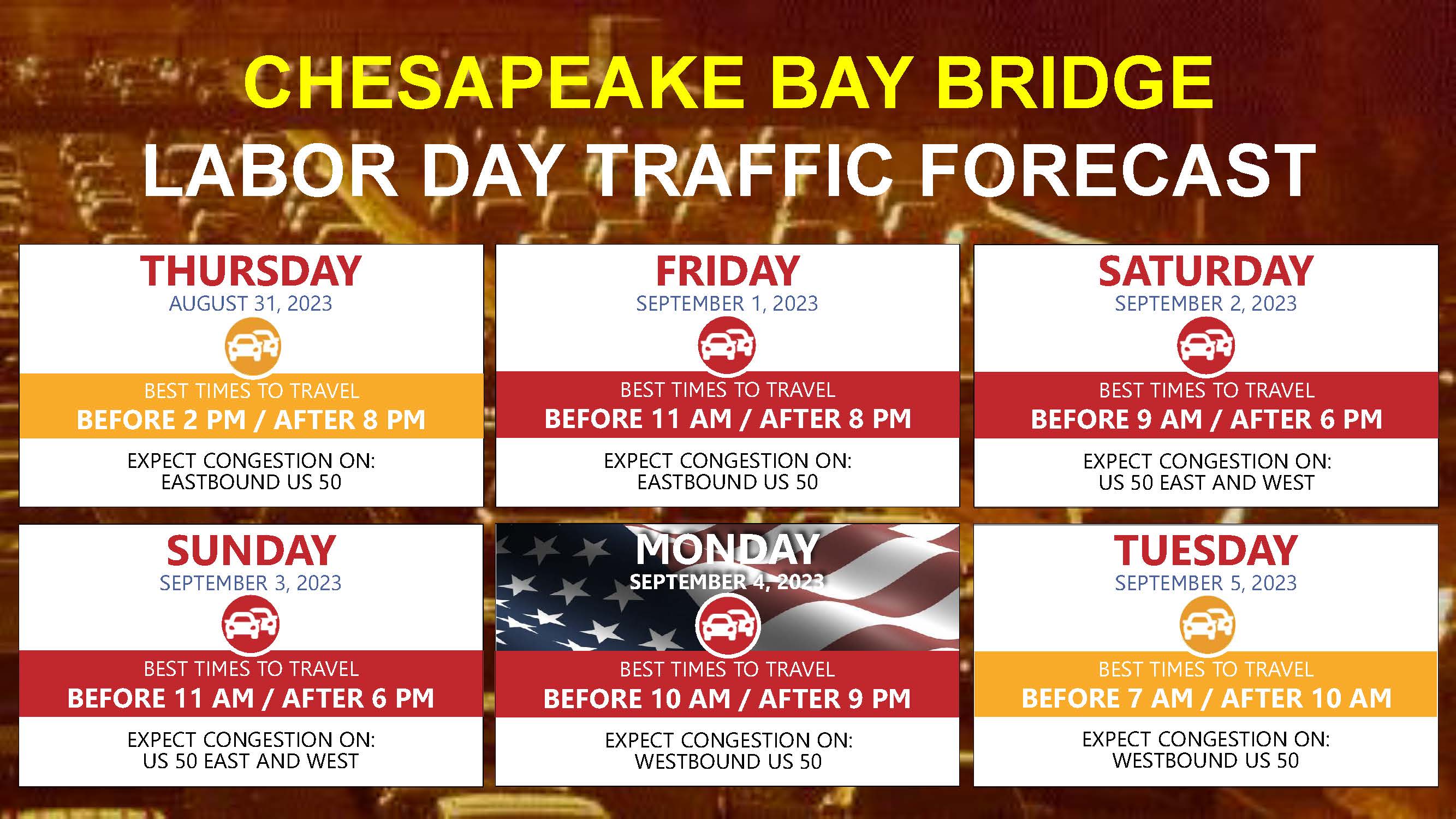 BALTIMORE, MD (August 29, 2023) – The Maryland Transportation Authority (MDTA) encourages our toll road customers to plan ahead and pack your patience if traveling during peak hours this Labor Day holiday. Roadways will be full of travelers trying to reach and return from their holiday destinations. This is especially true for those driving within the US 50 corridor crossing the Chesapeake Bay Bridge.
Labor Day Travel Period Congestion
Maryland Transportation Authority officials project more than 350,000 vehicles will cross the Bay Bridge between Friday, September 1, and Labor Day Monday, September 4. Expect travel delays in both directions – often simultaneously – at the bridge and along the US 50 corridor throughout the entire holiday travel period when traveling peak hours. Motorists should stay on US 50 on both sides of the bridge to keep local roadways open for first responders and residents.
For 24/7 real time Bay Bridge traffic information call 1-877-BAYSPAN (1-877-229-7726) or visit Baybridge.com. For real-time updates on major incidents on Maryland toll roads follow twitter.com/TheMDTA on Twitter.
The best times to travel across the Bay Bridge this holiday period will be off-peak, generally before 8 a.m. and after 10 p.m. Specific off-peak times for each day of the holiday period include:
Thursday, August 31

– before 2 p.m. and after 8 p.m.

Friday, September 1

– before 11 a.m. and after 8 p.m.

Saturday, September 2

– before 9 a.m. and after 6 p.m.

Sunday, September 3

– before 11 a.m. and after 6 p.m.

Labor Day Monday, September 4

– before 10 a.m. and after 9 p.m.

Tuesday, September

 5 – before 7 a.m. and after 10 a.m.
Weather and traffic permitting, two-way operations will be implemented to help prevent eastbound delays from becoming gridlock at the Bay Bridge. Two-way operations may be limited based on westbound traffic volumes, as bridge officials strive to mitigate delays on both sides of the bridge. Two-way operations are prohibited during bridge wind warnings/restrictions, fog/limited visibility or times of precipitation, and may be prohibited during incidents.
Heavy traffic volumes and related delays have occurred consistently in both directions at the Bay Bridge this summer travel season. It should be noted that drivers who travel during peak hours should expect significant delays when crossing the bridge. The core issue is traffic volume exceeding lane capacity, not two-way operation timing nor management. This has been observed routinely for many years on Sundays where three lanes westbound are not constrained by two-way traffic, yet heavy westbound delays are still present.
Reminder: Bay Bridge Automated Lane Closure System
The Automated Lane Closure System at the Bay Bridge uses overhead lane-use control signals and full-color dynamic message signs, horizontal swing gates and illuminated pavement markers to alert and guide motorists when lanes are opening and closing for traffic operations.
Lane signals apply to travel lanes BEFORE, ON and AFTER the bridge wherever lane signals are present.
RED X:

 Means the lane is closed. You MUST NOT enter or travel in any lane over which a RED X signal is shown

.

YELLOW X:

 Prepare to vacate the lane beneath the YELLOW X signal and move to a lane with a DOWNWARD GREEN ARROW.

DOWNWARD GREEN ARROW:

 Motorists can drive in the lane beneath the GREEN ARROW signal.
Police enforcement continues for motorists failing to obey the lane-use control signals on the highway approaches and on the bridge. Maryland Transportation Authority Police will remain vigilant and target dangerous drivers, seat belt violations and criminal activity throughout the holiday travel period. To report aggressive or dangerous driving on Maryland toll roads, call MDTA Police Dispatch at 410-537-7911.
E-Z'est Way to Pay Maryland Tolls
Tolls in Maryland are collected through E-ZPass, Pay-By-Plate and Video Tolling. E-ZPass is the most cost-effective, saving drivers up to 77% versus the higher rates –and also saving the additional paperwork – that comes with Video Tolls.
With Pay-By-Plate, tolls are automatically billed to the driver's registered credit card as they use Maryland toll facilities, with no need for a transponder or pre-paid deposit. Pay-By-Plate rates are the same as former cash rates. Learn more and enroll in E-ZPass or sign up for Pay-By-Plate at https://www.driveezmd.com/acct-types/. 
If using a rental vehicle over the holiday, you can add vehicle information temporarily to an E-ZPass or Pay-By-Plate account. Otherwise, be sure to alert the rental car company before traveling a route that includes a toll facility.
DriveEzMD Customer Service Centers will be closed Monday, September 4. Visit DriveEzMD.com or use the automated system at 1-888-321-6824 for 24/7 account maintenance or to make payments.