Intercounty Connector (ICC)/MD 200
Saving Time
HOW MUCH TIME WILL I SAVE IF I TRAVEL THE ICC?
Travel on the ICC saves users valuable time versus existing travel options on the local road network. A trip from Gaithersburg to Leisure World (near the intersection of Georgia Ave. and MD 28) via local roads takes up to 23 minutes during the morning rush hour. Typically, a driver would use Shady Grove Road, Muncaster Mill Road and Norbeck Road for the trip. Using the ICC, a driver can travel the same distance in approximately 7 minutes, a 16-minute time savings - or 70 percent less time. A trip from Laurel to Gaithersburg that once took more than 47 minutes in the morning saves a commuter more than 30 minutes with a 17-minute trip on the ICC.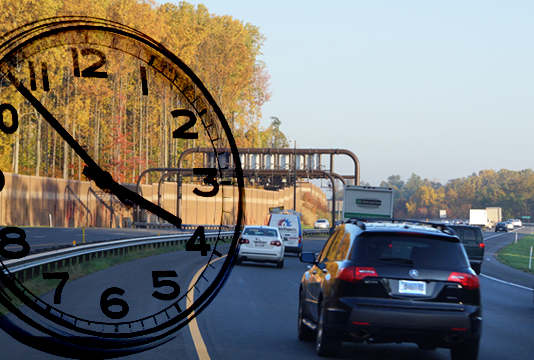 STUDY CONFIRMS ICC TRAVEL TIME SAVINGS AND CONGESTION RELIEF ON AREA ROADS
Intercounty Connector (ICC)/MD 200 drivers have saved more than 50 percent in travel time compared to likely alternative routes, according to a 2013 before/after study from the MD Transportation Authority (MDTA) and the State Highway Administration (SHA). Use the links below to download and read the study materials.
 
TRAVEL TIME
TIME SAVINGS
ROUTE
USING
LOCAL
ROADS
USING
ICC/MD 200
IN MINUTES
%
Gaithersburg to
Leisure World
23
7
16
70
Laurel to
Gaithersburg
47
17
30
64
Gaithersburg
to BWI Airport
71
37
34
48
White Oak to
Gaithersburg
56
20
36
64
Laurel to
Leisure World
25
13
12
48

BWI THURGOOD MARSHALL AIRPORT
Catching a late afternoon flight out of BWI Thurgood Marshall Airport from the Shady Grove Metro Station takes more than 70 minutes using the local roadway network. Using the ICC, the trip takes 37 minutes - nearly a 50 percent time savings. Getting to work along the I-270 Technology Corridor is easier for Prince George's County residents traveling the ICC.