Intercounty Connector (ICC)/MD 200 - E-ZPass®
New Lower Toll Rates Effective July 1, 2015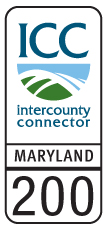 The ICC is the first all-electronic toll facility in Maryland. There are no toll plazas and no cash accepted along the roadway. Tolls are collected electronically using E-ZPass® and Video Tolling at highway speeds.
All-electronic tolling helps maintain free-flowing traffic conditions and reduce vehicle emissions because drivers do not stop for cash payment at toll plazas. It also requires less land, reducing the environmental impact of the road.
E-ZPass is the most convenient and easiest way to pay your toll on the ICC. Video Tolling is an option, though not recommended for frequent travelers. Toll facility customers who do not have an E-ZPass and travel the ICC will be sent a bill in the mail and charged the Video Toll Rate (VTR). VTRs at all Maryland toll facilities are 1.5 times the base toll rates with a minimum of $1 and a maximum of $15 above the base toll rate.
To purchase E-ZPass, visit www.ezpassmd.com to enroll online or get a list of E-ZPass "On the Go" retail locations, including local Motor Vehicle Administration offices in Gaithersburg and Beltsville.

MVA Beltsville Office
11760 Baltimore Avenue, Station 43/44
Beltsville, MD 20705
8:30 a.m. to 4:30 p.m.,
Monday - Friday (excluding State holidays)
MVA Gaithersburg Office
15 Metropolitan Grove Road
Gaithersburg, MD 20878
8:30 a.m. to 4:30 p.m.,
Monday - Friday (excluding State holidays)
Link to all MVA locations that sell E-ZPass "On the Go": http://www.ezpassmd.com/en/onthego/locations_mva.shtml
E-ZPass Customer Service Centers are also located at Maryland toll facilities. For a complete list of E-ZPass Customer Service Centers visit our Toll Rates Page.