The MDTA Board is a group of citizens appointed by the Governor with the consent of the Maryland Senate. Of the appointed Members, one shall have expertise in structural engineering, one in transportation planning, one in land use planning, and one in finance. Appointed Members shall reflect the racial, gender, and geographic diversity of the population of the State. As a result of a modification to the MDTA's enabling legislation as of January 1, 2007 appointments are for staggered terms of four years and may not extend beyond three consecutive terms.
Our current membership represents the geographic regions in which our toll facilities are located-the upper and middle Eastern Shore, Southern Maryland, the Baltimore-metropolitan region and the Washington-metropolitan region. This group serves as our policy-setting, decision-making and governing body. Maryland's Secretary of Transportation serves as the MDTA's Chairman.
The MDTA Chairman and Members meet monthly to discuss and approve policy and operations activity. Additionally, two Committee meetings are held monthly: the Capital Committee and Finance Committee link to meeting calendar. Four Members are assigned to each Committee. These meetings are held in accordance with the Open Meetings Act. Minutes from the meetings can be found in the meeting minutes archive.
Chairman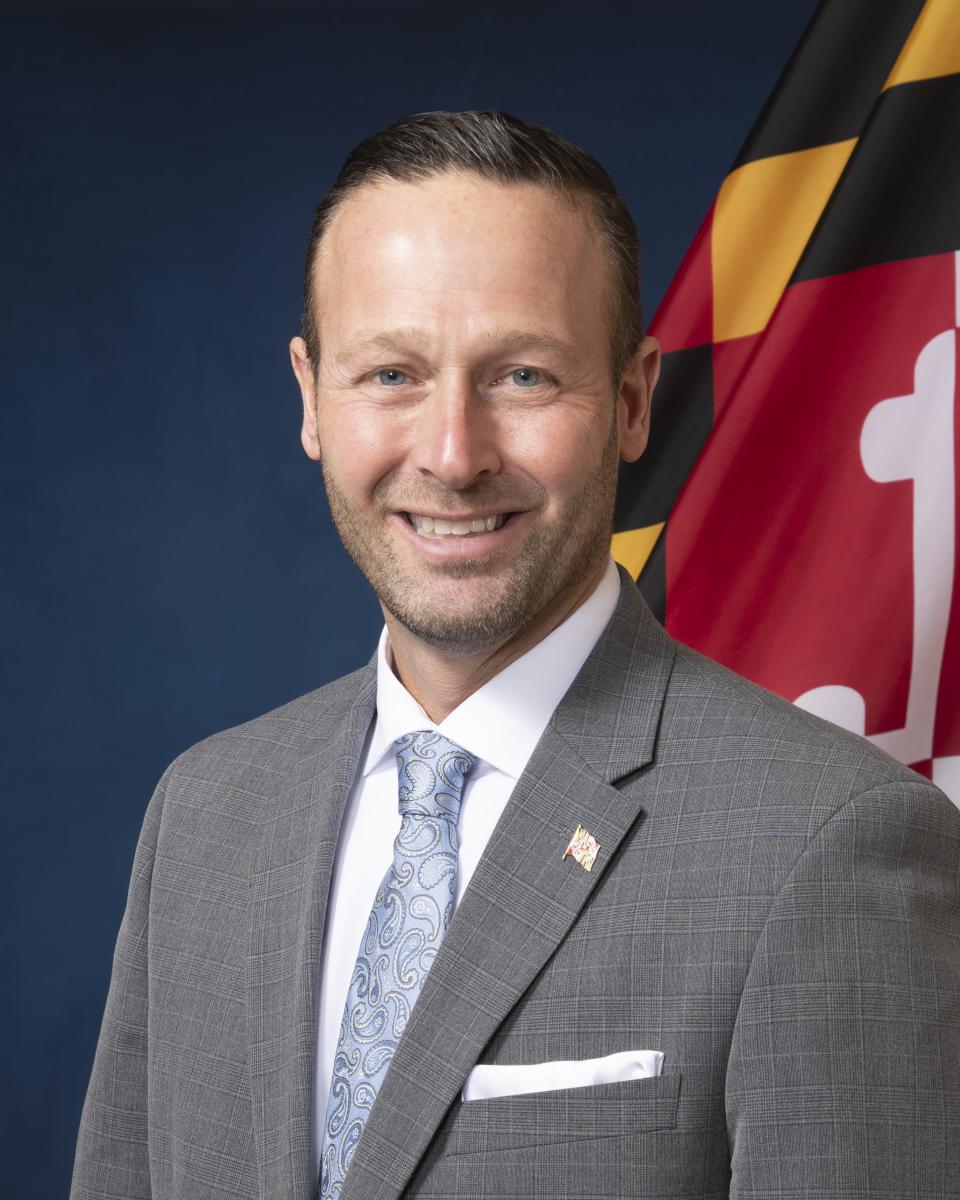 Transportation Secretary Gregory Slater
Biography:
Gregory Slater was nominated to serve as Secretary of the Maryland Department of Transportation (MDOT) in December 2019 after more than two decades of public service. On February 24, 2020, he was confirmed as Secretary by the Senate of Maryland. 
Mr. Slater's career has been defined by dedication, performance-driven transportation, and collaborative and creative problem-solving. With 22 years of experience at the MDOT State Highway Administration (MDOT SHA), Mr. Slater worked his way up from where his career began in Plats and Survey operations to leadership positions on both the engineering and planning/programming offices to become Administrator in 2017.
His career growth includes nearly a decade as the MDOT SHA Director of Planning where he developed a keen understanding of the transportation system's and MDOT's critical role in the safety, accessibility, mobility, economic vitality and quality of life for all Marylanders. Mr. Slater describes Maryland's transportation network as a "system of systems" and knows how each mode of transportation must function safely and efficiently for residents and businesses to thrive. He promotes the integration of smart technology and performance data to help MDOT unlock solutions to some of Maryland's greatest transportation challenges with a focus on building the foundation of a transportation system for the next generation to thrive. As Secretary, Mr. Slater leads a transportation department with more than 10,000 employees and an operating budget of nearly $5.4 billion. He oversees every aspect of state transportation, from its highways, roadways, transit systems/services and toll facilities to motor vehicles, the BWI Thurgood Marshall Airport and the Helen Delich Bentley Port of Baltimore.
Mr. Slater is a lifelong Marylander, a 1997 graduate of Towson University and leads many committees and efforts to strengthen the industry within the Transportation Research Board and the American Association of State Highway and Transportation Officials. 
Members
Member Dontae Carroll
Biography:
Governor Larry Hogan has appointed real estate executive Dontae Carroll of White Plains in Charles County to serve as the newest board member at the Maryland Transportation Authority (MDTA). Mr. Carroll was appointed on July 22, 2017 for a four-year term on the MDTA Board.
As Long & Foster Real Estate's Senior Vice President and Regional Manager for Northern Virginia and West Virginia, Mr. Carroll oversees the company's largest and most profitable region, which produces $10 billion in annual sales and more than 15,000 settled transactions. Previously, he served as Vice President of Business Development, Mid-Atlantic Region, for Century 21 LLC.
Mr. Carroll received his bachelors of business administration degree in marketing from Loyola University Maryland and he received Century 21's Ambassador's Award in 2007 and the President's Award from 2005-2007.
Member William H. Cox, Jr.
Biography:
President of William H. Cox, Jr., Real Estate, Inc., Mr. Cox also served as a member of the Maryland House of Delegates from 1971 - 1991 and previously worked in the financial industry. A graduate of Bel Air High School, Mr. Cox attended the University of Baltimore and previously served as chairman of the Joint Committee on Transportation and the Greater Harford Committee, member of the Maryland Transportation Commission, vice chairman of the Conference of State Government and chairman of the Southern Legislative Conference's Federal State Affairs Committee, among many others.
Member William C. Ensor II
Bioraphy:
William C. Ensor III was appointed to the MDTA Board by Governor Hogan in July 2015. Recently retired as president of the Timonium-based Maryland Paving, Inc., Mr. Ensor has more than 30 years of experience in the transportation industry with extensive knowledge in financial, procurement and contracting matters. He is director emeritus of the Maryland Asphalt Association and board member for Christian Farmer's Outreach. Previously, Mr. Ensor served as chairman of the board for the National Asphalt Pavement Association. He is a graduate of the Maryland Bible College & Seminary.
Member W. Lee Gaines, Jr.
Biography:
W. Lee Gaines, Jr. was appointed to serve as a Member of the MDTA Board in April 2015. He is President of Gaines and Company, an underground-utility contractor based in Reisterstown, Md. With more than 40 years in the industry, Mr. Gaines is responsible for the financial end of his business and also is involved in procurement and personnel matters. He is a past president and board member of the Associated Utility Contractors of Maryland and a long-time board member of the National Utility Contractors Association. Mr. Gaines is a past trustee of the Boys' Latin School of Maryland and of the Gilman School and currently is a trustee of Yorktown University. Mr. Gaines is a graduate of Yale University.
Member Mario J. Gangemi, P.E.
Biography:
An Eastern Shore native, Mario J. Gangemi, P.E., has more than 26 years of experience as an engineer in the geotechnical, construction, environmental and structural fields. Currently, he is with Greggo & Ferrara, Inc., a highway construction firm that has been in business for more than 70 years..
Active in his community, Mr. Gangemi has coached youth lacrosse and football for numerous years and, with friends, founded the Cecil Lacrosse League, which has grown from just over 50 boys to more than 300 boys and girls in a few short years.
Mr. Gangemi also is active with the Cecil County Chamber of Commerce and helped establish the Cecil Business Leaders for Better Government (CBL), an organization that recruits and supports local candidates that will encourage policies that will grow jobs in Cecil County.
Mr. Gangemi earned bachelor's degrees from Salisbury University (Physical Science) and the University of Maryland (Civil Engineering) as well as a master's degree in Coaches Education from Ohio University. He and his wife, Michele, reside with their three children in Fairhill, Maryland.
Member John F. von Paris
Biography:
John F. von Paris A graduate of Towson University, Mr. von Paris is president and chief executive officer of Von Paris Enterprises, Inc., the parent company of the von Paris Family Moving and Storage business. Mr. von Paris has served previously as chairman of the Better Business Bureau of Greater Maryland and past member of the Governor's Workforce Investment Board, where he co-chaired the Transportation Initiative. He is a past trustee and board member of The John Carroll School.
Member Cynthia D. Penny-Ardinger
Biography:
Governor Larry Hogan has appointed attorney and Certified Public Accountant Cynthia D. Penny-Ardinger to serve as the Board Member of the Maryland Transportation Authority (MDTA). Ms. Penny-Ardinger was appointed on December 10, 2019.
A partner at Baxter, Baker, Sidle, Conn & Jones, P.A., Ms. Penny-Ardinger has two decades of experience in representing clients in the business and estates and trust practice areas. She received both a Bachelor of Science in Economics and a Juris Doctorate at the University of Maryland. She is a former president of the Friends of Howard County Library and has served on the boards of numerous organizations including the Ellicott City Volunteer Fire Company, the Charter Review Commission of Howard County, and Neighborhood Ride, a Howard County organization that provides transportation to seniors.  She has chaired numerous ad hoc committees for the purpose of educational advocacy.
Member Jeffrey S. Rosen
Biography:
Governor Larry Hogan has appointed certified public accountant and financial expert Jeffrey S. Rosen to serve as the newest Board Member of the Maryland Transportation Authority (MDTA).  Mr. Rosen was appointed on July 1, 2019.
Co-managing partner of Rosen, Sapperstein & Friedlander, LLC, Mr. Rosen previously worked for The Shelter Group, The Bernstein Companies, Sphere Software Corporation and GE Capital.
Mr. Rosen received his Master of Business Administration from the University of Maryland College Park and has served on the boards of numerous non-profits, including Towson University, Comprehensive Housing Assistance, Inc. (CHAI), Association for Corporate Growth (Maryland Chapter) and The Associated: Jewish Community Federation of Baltimore. He received the Daily Record's Influential Marylander Award in 2019 and the Daily Record's VIP award in 2014. 
Executive Director
Executive Director James F. Ports, Jr.
Biography:
In June 2019, the Maryland Transportation Authority (MDTA) Board named James F. Ports, Jr., to lead the 1,700-employee agency that oversees the State's eight toll facilities and the E-ZPass Maryland system.  As Executive Director, Mr. Ports manages the MDTA's daily operations, including the nationally accredited MDTA Police; a $324.4 million annual operating budget; and a $3.1 billion six-year capital program.  He also works with MDTA Board Members to establish policy and strategic direction for the agency.  
Mr. Ports was previously appointed by Governor Larry Hogan to serve as Deputy Secretary of Operations for the Maryland Department of Transportation (MDOT) on January 27, 2015.  In this capacity, he oversaw the operations of the agency's six transportation modes: The State Highway Administration, Maryland Transit Administration; Motor Vehicle Administration; Maryland Aviation Administration including the Baltimore/Washington International Thurgood Marshall Airport; the Helen Delich Bentley Port of Baltimore and the Maryland Transportation Authority.  Mr. Ports returned to MDOT having previously served as Deputy Secretary from 2004 to 2007 during the administration of Governor Robert L. Ehrlich, Jr.
Mr. Ports has extensive experience in multi-modal transportation and highway safety, serving as the Administrator and Chief Executive Officer for Harford County's Transit system.  In this capacity, he was responsible for the safe, effective, efficient operation and regulatory oversight of Harford County's transit service including fixed bus routes and demand response service for the elderly, and persons with disabilities.
Prior to joining Harford Transit, Mr. Ports served as the Deputy Administrator for the National Highway Traffic Safety Administration (NHTSA).  He was appointed by the U.S. Secretary of Transportation with confirmation by President Bush.  As Deputy Administrator, he managed the day-to-day operations of the Agency and oversaw the 10 Regional Offices across the nation.  As the second highest ranking highway safety official in the nation, he was recognized as a national and international leader in vehicle, behavioral and roadway safety.
From 1991 thru 2002, Mr. Ports served in the Maryland General Assembly as a member of the House of Delegates.  He was Ranking Member of the Ways and Means Committee.  He also served on numerous House-Senate Joint Committees and subcommittees, including House Subcommittees on Transportation, Education and Taxes.  He was also elected by his peers to serve as the Minority Whip.
While serving in the House of Delegates and prior to his first appointment to MDOT, Mr. Ports was employed by the Baltimore Gas and Electric Company.  During his twenty-one year career, he rose through the ranks and held various positions including Supervisor of the Industrial and Commercial Gas Field Operations.
Mr. Ports served in the United States Marine Corps as a Sergeant (E5) and was a Crew Chief on the CH-46 Helicopter.  He graduated boot camp with honors as the High PFT awardee, Marine of the Month HMM-264, Team Captain of the base soccer team for New River Air Station and earned several military medals including the Marine Expeditionary Medal. Mr. Ports is a life member of the VFW and the Marine Corps League.  
Throughout his life, Mr. Ports has served in many capacities for the benefit of his Nation, State and community.  Mr. Ports is an avid soccer fan. He and his wife Linda enjoyed coaching and watching their three children, Chris, Jon and Kelsey, play various sports.