MD 24 NORTHBOUND AUXILIARY LANE TO BE
PRESENTED AT VIRTUAL PUBLIC MEETING
7 P.M. THURSDAY, FEBRUARY 4
Public comments will be received until February 18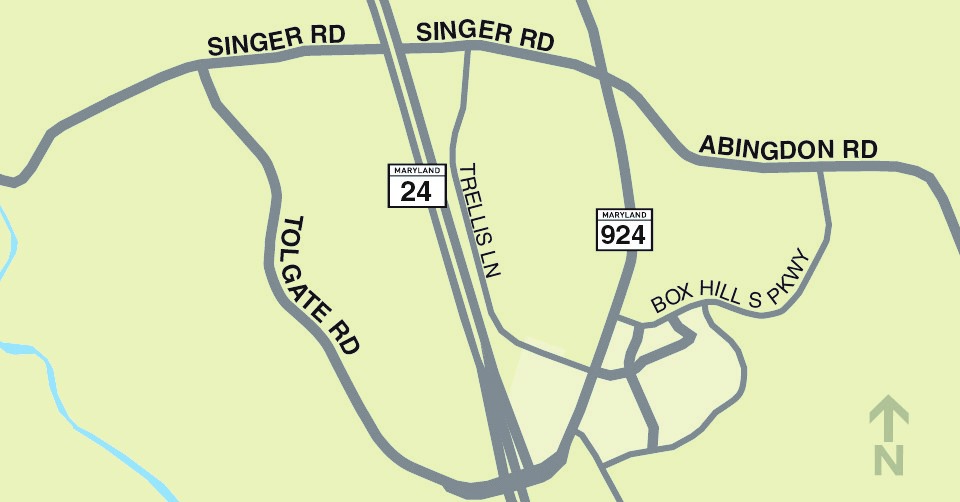 BALTIMORE, MD (January 21, 2021) – The Maryland Transportation Authority (MDTA) will host a virtual public meeting Thursday, February 4, from 7 p.m. to 8:30 p.m., to present and solicit public comment on the MD 24 Northbound Auxiliary Lane through Singer Road Intersection project in Harford County as part of the ongoing I-95 Express Toll Lanes (ETL) Northbound Extension Program.
The project will add a third, auxiliary lane on Northbound MD 24 from MD 924 through the Singer Road Intersection, improving capacity and safety along the corridor and reducing congestion for vehicles traveling from I-95 toward Bel Air. As part of the project, northbound travel lanes will be resurfaced and traffic signal modifications will be made at the Singer Road intersection.
Due to the current COVID-19 health crisis and the MDTA's commitment to protect the public and agency members, this event will be held as a virtual meeting. Such online presentations are important tools to facilitate participation from community stakeholders during the COVID-19 emergency. To join the virtual meeting, use this link: bit.ly/2LmPIeG. For the audio-only version of the meeting, call 443-409-5228 and, when prompted for the Conference ID, dial 392 690 160#. Materials and an option to comment and
pose questions in advance will be posted by January 21 at mdta.maryland.gov/I95ETLNB/home.html.
The comment period on the MD 24 Northbound Auxiliary Lane project will be open through February 18. Individuals wishing to participate in the virtual public meeting and who require special accommodations under the Americans with Disabilities Act, or require language translation services (free of charge), should contact the project team at I95ETLNB@mdta.maryland.gov at least seven days prior to
the meeting.
The MDTA's I-95 Express Toll Lanes (ETL) Northbound Extension Program between MD 43 and north of MD 24 will help alleviate delays and improve travel along northbound I-95 between Baltimore and Harford counties. In addition to extending the northbound I-95 ETL, the program will replace several bridges that are more than 50 years old and will provide new noise walls for adjacent communities.