FOR IMMEDIATE RELEASE
Aug. 1, 2016
24/7 RIGHT LANE CLOSURE ON SOUTHBOUND I-895
NEAR BALTIMORE/WASHINGTON PARKWAY
Follow #i895bmore and @TheMDTA on Twitter
Use I-95 as Alternate Route
WHAT: The right lane on southbound I-895 across the Patapsco Flats bridge will be closed continuously (24/7). Only one lane will be open across the bridge. Motorists should use I-95/Fort McHenry Tunnel as an alternate route during peak travel times.
Note: The right lane on northbound I-895 across the Patapsco Flats bridge remains closed 24/7.
New Traffic Pattern: Southbound I-895 traffic approaching the work zone must use the left lane to remain on I-895 and must use the right lane for Exit 6 (I-97 and MD 2 spur road).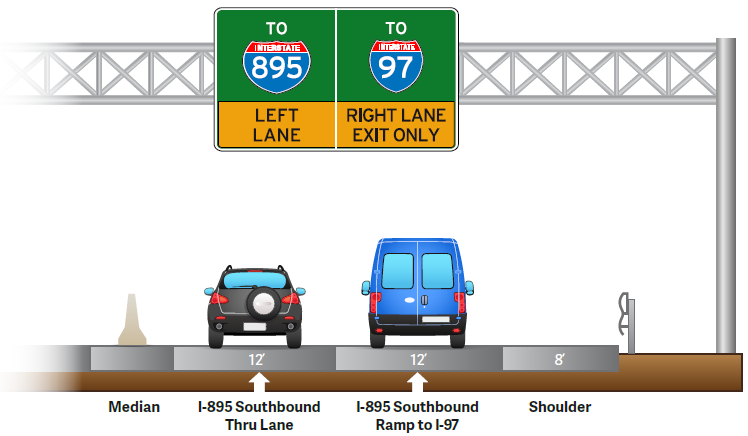 WHEN: Weather permitting, the 24/7 right lane closure on southbound I-895 will be in effect by Thursday morning, Aug. 4, until the first project stage is complete this fall.  Closure originally scheduled for Aug. 3, has been rescheduled for this date
Note: When the first stage is complete, the northbound and southbound right lanes will reopen, and the left lanes then will be closed continuously.
WHY: Toll Dollars At Work: The closure is part of the Maryland Transportation Authority's (MDTA) three-year, $48.5 million project to replace the deck and superstructure for the bridge carrying I-895 over the Patapsco River Flats.
To view real-time traffic camera images on MDTA roadways, visit mdta.maryland.gov. For real-time updates on major incidents follow us on Twitter at twitter.com/TheMDTA. Find us on Facebook at facebook.com/TheMDTA.
The MDTA thanks motorists for their patience.
                                                                       ###