MD 152 PARK AND RIDE OPTIONS TO BE PRESENTED AT
VIRTUAL PUBLIC UPDATE THURSDAY, JUNE 11, 7 P.M.
Meeting Begins Two-Week Public Feedback Period for Park and Ride Relocation Alternatives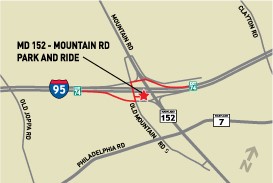 The Maryland Transportation Authority (MDTA) will host a virtual public update Thursday, June 11, from 7 p.m. to 8 p.m., to present and solicit public comment on options to relocate the MD 152 Park and Ride lot in Harford County as part of the ongoing I-95 Express Toll Lanes (ETL) Northbound Extension Program. Due to the COVID-19 State of Emergency and following the MDTA's commitment to protect our customers and team members, this event will be held as a virtual meeting. Such online presentations are important tools to facilitate participation from community stakeholders during the COVID-19 emergency.
To join the virtual update, use this link: https://bit.ly/MDTA95ETL. For the audio-only version of the meeting, call 443-409-5228 and when prompted for the Conference ID, dial 961 768 356#. Materials and an option to comment and pose questions in advance will be posted by June 4 at mdta.maryland.gov/I95ETLNB/home.html.
Improvements that are being completed as part of the $1.1 billion I-95 ETL Program will result in the closure of the existing MD 152 Park and Ride lot. The virtual update will include details about site options for a new MD 152 Park and Ride lot and will solicit feedback on the relocation alternatives. A new MD 152 Park and Ride facility would include transit and bicycle access.
The comment period on the MD 152 Park and Ride relocation options will be open through June 25. Individuals wishing to participate in the virtual project update and who require special accommodations under the Americans with Disabilities Act, or require language translation services (free of charge), should contact the project team at I95ETLNB@mdta.maryland.gov at least seven days prior to the update.
The MDTA's I-95 Express Toll Lanes (ETL) Northbound Extension Program between MD 43 and north of MD 24 will help alleviate delays and improve travel along northbound I-95 between Baltimore and Harford counties. In addition to extending the northbound I-95 ETL, the program will replace several bridges that are more than 50 years old and will provide new noise walls for adjacent communities.