***CUSTOMER ASSISTANCE PLAN UPDATE***
2 MONTHS REMAINING TO PAY VIDEO TOLLS AND SAVE
Clock is Ticking: 60-Day Countdown for Civil Penalty Waiver Grace Period for Video Tolls
BALTIMORE, MD (September 30, 2022) – As of October 1, exactly 60 days will remain in the Maryland Transportation Authority (MDTA) Customer Assistance Plan offering a civil penalty waiver grace period for Video Tolls. The MDTA is continuing to urge customers to take advantage of the plan by paying unpaid Video Tolls – either in one payment or incrementally over time – and make sure they are paid in full by 11:59 p.m. November 30, 2022.
The MDTA Board approved the nine-month Customer Assistance Plan in February. For every Video Toll transaction paid in full while the plan is in place, the corresponding civil penalty is waived. In addition, toll bill referrals to the Central Collection Unit (CCU) and MDOT Motor Vehicle Administration (MDOT MVA) have ceased until December 1, 2022.
As the 60-day countdown continues toward the November 30 close of the Custo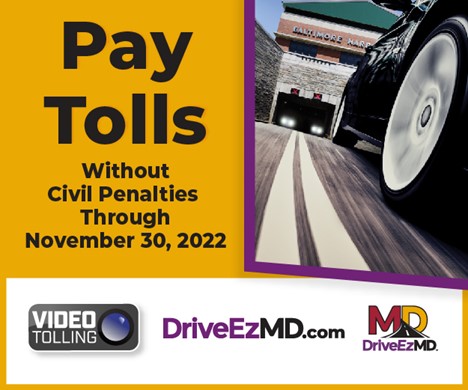 mer Assistance Plan, the MDTA continues to post daily reminders on its Twitter social media page, @TheMDTA, and on the MDTA and DriveEzMD websites.
It is important to remember the Customer Assistance Plan is not toll forgiveness, nor is it an elimination of tolls owed. Tolling remains in effect statewide, and drivers are responsible for paying the outstanding toll amount.
Start toll payments now – don't wait until it's too late. Customers now have two months remaining to take advantage of the plan's limited-time opportunity. For many, this time can serve as a temporary payment plan opportunity, allowing customers to stretch out toll payments over the waiver grace period.
As of September 15, 2022, $74.4 million in civil penalties have been waived for approximately 492,000 drivers and businesses that have paid their outstanding Video Tolls.
For customers who choose not to pay their Video Tolls before the due date on the notice, mailings of citations/civil penalties will continue during the grace period and will remain in effect if tolls are not paid by 11:59 p.m. November 30. On December 1, 2022, customers will be responsible for the full amounts of all unpaid tolls as well as any civil penalties, which will be due based on the printed due dates. Also on December 1, toll debt referrals to CCU for collections actions and MDOT MVA for vehicle registration suspensions will resume.
The MDTA has completed posting online at DriveEzMD.com all Maryland customer tolls that were deferred during the COVID-19 pandemic. The MDTA encourages customers to check their account at DriveEzMD.com and pay their tolls now before civil penalties are assessed, and the opportunity for a civil penalty waiver ends 11:59 p.m. November 30, 2022. 
Customers are offered additional savings by converting their Video Tolls to E-ZPass or Pay-By-Plate. To take advantage of this opportunity, customers must pay the entire balance at the time of conversion. Also, with DriveEzMD, Video Tolling customers can save 15% (maximum of $5 per transaction) by paying their Video Tolls before the notice is mailed.
The Maryland Transportation Authority finances, owns, operates, secures and improves the state's eight toll facilities. The MDTA is financed by toll revenue without relying on state tax dollars.