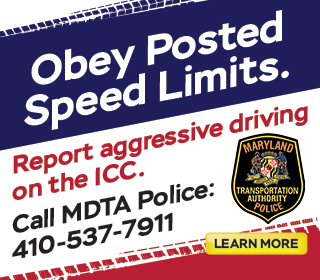 Traffic volume on Maryland roads may be down, but dangerous driving has not taken a backseat. According to Maryland law enforcement agencies, 69% of speeding citations issued from March 16 to April 17, 2020 cited drivers exceeding posted speed limits by 20 mph or higher. More than 375 citations noted speeds of 90 mph or more.​
The Maryland Transportation Authority Police are reminding all motorists to obey the posted speed limits and to slow down. Excessive speed endangers the driver, as well as all of those around the vehicle. The wide-open roadways are not an open invitation for motorists to speed and drive aggressively.  
Driving over posted speed limits is more than just against the law. Speeding and other aggressive driving actions play a role in about one-third of all crashes and traffic related injuries in Maryland. The consequences of speeding include greater potential for loss of control of your vehicle, difficulty stopping quickly, increased stopping distance, and increased degree of crash severity leading to more severe injuries or death.
MDTA Police remind motorists that a few simple steps can save lives:
Buckle Up: Every Seat, Every Time.  Seat belts are one of the best ways to protect drivers and passengers in a crash.
Slow Down. Many crashes occur when drivers exceed the speed limit or drive too fast for the conditions. Leave a few minutes early and take some extra time to get to your destination.
Make a Plan.  Designate a sober driver, be the sober driver or make a plan for a safe and sober ride home through a taxi, a rideshare service or public transportation.
Share the Road. Drivers, cyclists and pedestrians must look up and look out for one another and obey traffic laws and signals. Always stop for pedestrians in crosswalks, marked and unmarked, and give bicyclists at least 3 feet of space when passing.
Park the Phone. Protect lives by never texting or talking on the phone while driving.
Move Over. Do your part to help protect first responders. Move over when you see flashing lights on the roadside. If you cannot safely move over, slow down to a safer speed. 
​If you are out on the roads, make sure you are focused on your driving and protecting yourself and those around you. It's important to do your part by driving safely to help save lives.
Keeping Marylanders safe on our roadways is a priority for the Maryland Transportation Authority Police. By implementing traffic enforcement initiatives on impaired driving, seat belt use, aggressive driving, distracted driving and work zone safety, the MDTA Police are improving safety on our roads for drivers, passengers, pedestrians and bicyclists.
The MDTA Police's goal is to reduce the number of injuries and fatalities due to motor vehicle crashes. The MDTA Police support Maryland's Zero Deaths campaign – a partnership to save lives and prevent injuries on Maryland roadways. For more information, visit zerodeathsmd.com.