SUSPECTED IMPAIRED DRIVER ARRESTED
AFTER CRASHING INTO MDTA POLICE VEHICLE
Officer Treated at the Scene for Minor Injuries
BALTIMORE, Md. (November 16, 2022) – Maryland Transportation Authority (MDTA) Police Officers arrested a Baltimore man involved in a crash with an MDTA Police vehicle early this morning in Baltimore City.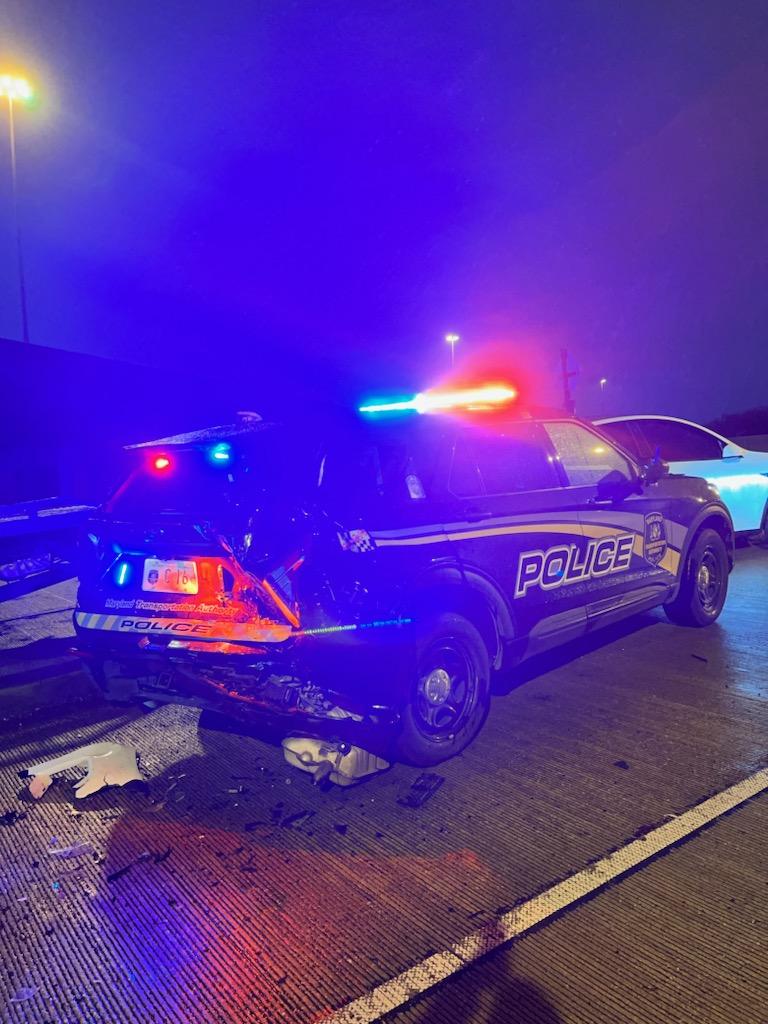 Shortly before midnight, MDTA Police Officers responded to a crash in the area of Monroe Street and MD 295. While officers waited for a tow truck to remove one of the vehicles involved in the crash, an Infiniti SUV crashed into the rear of a marked MDTA Police SUV. The MDTA Police vehicle had its emergency lights activated at the time of the crash, and an officer was inside. The impact of the crash pushed the MDTA Police vehicle into the rear of the disabled vehicle from the previous crash. The MDTA Police Officer was treated on-scene for minor injuries. No other injuries were reported.
While speaking with the driver of the Infiniti SUV, officers detected signs of impairment. Officers arrested Herman T. Rock, 53, of Baltimore, who faces multiple charges including driving a motor vehicle while under the influence and driving a motor vehicle without a license.
November 14-18 has been recognized as Crash Responder Safety Week across the country. Crashes such as this one demonstrate the dangers that first responders, tow truck operators and other highway workers face when assisting motorists and managing crash scenes. Drivers are reminded of Maryland's MOVE OVER law, which requires drivers to move over when possible, or slow down, and take appropriate caution when approaching any vehicle displaying hazard warning lights, road flares, or other caution signs.
Those charged with a crime are considered innocent until proven guilty in a court of law.
The Maryland Transportation Authority Police, a nationally accredited force, is the eighth-largest law enforcement agency in the State with more than 500 sworn and civilian law enforcement professionals. MDTA Police Officers provide law enforcement services at the MDTA's highways, bridges, and tunnels, at BWI Thurgood Marshall Airport, and at the Port      of Baltimore.