I-95 ETL Northbound Extension - MD 24/MD 924 Park and Ride
The Park and Ride at the intersection of MD 24 and Woodsdale Road, adjacent to the I-95 interchange at MD 24/MD924 in the Abingdon area provides an alternate site for Park and Ride customers in Harford County. The Park and Ride has 265 spaces and includes bicycle facilities and accommodations for transit connections for Maryland Department of Transportation Maryland Transit Administration (MDOT MTA) and Harford County bus service. Sidewalks have been extended along northbound MD 924 and into the Park and Ride facility to provide pedestrian access.
Access to and from the Park and Ride is provided along MD 924 using a right-in and right-out entrance and exit. Additional access is provided via Woodsdale Road.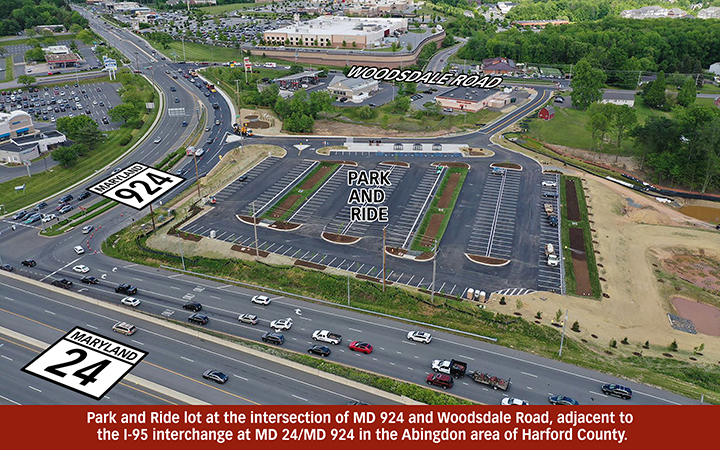 Construction on the project began June 15, 2020, and is an example of the important work accomplished during the state's COVID-19 emergency while maintaining focus on the health and safety of work crews and the public. Traffic operations on MD 924 and Woodsdale Road were maintained, with off-peak daytime and nighttime closures during construction.
The MDTA encourages users of the MD 152 Park and Ride lot to begin utilizing this new facility. The MD 152 Park and Ride lot will close in late 2021 when reconstruction of the I-95/MD 152 interchange begins. Advance signage will be installed to direct users to the new Park and Ride at MD 24/MD 924. This Park and Ride will serve the existing MD 152 Park and Ride customers until a new Park and Ride at MD 152 is constructed in the future.
Related News