I-95 ETL Northbound Extension - Southbound I-95 Noise Wall between New Forge Road and Big Gunpowder Crossing
As part of the MDTA's $1.1 billion program to relieve congestion and improve travel along the I-95 corridor into Harford County, the MDTA is constructing a new noise wall along southbound I-95 between New Forge Road and the Big Gunpowder Falls. The wall will extend south from the Big Gunpowder Falls for approximately 2,945 feet. The location of the new noise wall will vary to optimize its effectiveness. Portions of the noise wall will be located along the existing shoulder and portions will transition back to the right-of-way line. The noise wall will enhance the quality of life for the residents in these communities by reducing the noise from the highway. The new noise wall will not eliminate noise but will reduce the noise level to be within the acceptable ranges as defined by state and federal guidelines.
The new noise walls will:
Include a stone pattern finish
Vary in height from approximately 16 feet to 24 feet
Noise Wall Example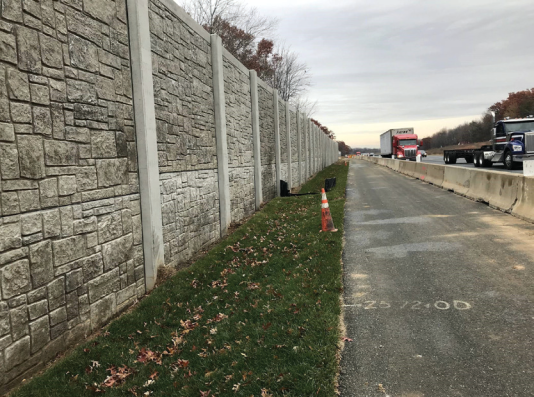 Maryland Transportation Authority
Attn: Brian Wolfe, PE
Director of Project Development
Office of Engineering and Construction
8019 Corporate Drive, Suite F
Nottingham, MD 21236
I95ETLNB@mdta.maryland.gov
Comments can be submitted by either U.S. mail or email to the above addresses.