Land Use / Economic Development
Current Land Use
The southern boundary of the study area coincides with Baltimore County's Urban Rural Demarcation Line (URDL). Baltimore County north of the URDL is rural in nature and targeted for low-density residential development, agricultural preservation and community conservation. Generally, the area does not have public water or sewer service. The study area includes agricultural preservation areas, resource preservation areas, rural-residential areas and rural-commercial centers. At Baltimore County and Harford County boundary is the Gunpowder Falls State Park, an important recreation and natural resource. Approximately 75 percent of the study area is in Harford County.
The Harford County 2004 Master Plan and Land Use Element Plan shows that the MD 24, MD 543 and MD 22 interchanges are all located within designated development envelopes. Areas within a development envelope are designated for low-, medium- and high-density uses. Areas outside the development envelopes are designated for agricultural, forest or low-density residential use.
Major Economic Development Intiatives in the Study Area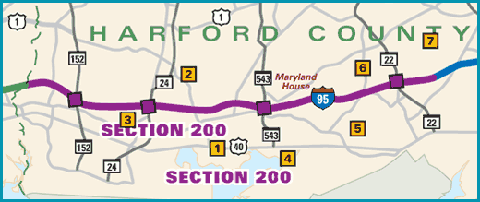 - US 40 Revitalization
State/local initiative to redevelop/revitalize the US 40 corridor.

- Box Hill Corporate Center
A 150-acre commercially zoned property adjacent to the I-95/MD 24 interchange. The Box Hill Corporate Center includes more than one million square feet of planned office and flex space and is surrounded by conference centers, hotels and other resources.

- Hefner Property
A 350 acre, commercially zoned property adjacent to the I-95/MD 24 interchange

- Waters Edge Corporate Campus
A 141 acre mixed-use development located along Bush Rive

- Perryman Development
15 million sq. ft. commercial development between MD 543 and MD 22 near US 40

- Higher Education and Technology (HEAT) Center
A 152 acre research and development park at the I-95/MD 22 interchange

- Ripken Stadium Complex
A family-oriented/recreational development that includes a 6,000 seat baseball stadium and a youth baseball academy
Other development initiatives in Harford County include Lakeside Business Park, the Riverside Industrial Park and Edgewood Revitalization Strategies, which include mixed-use, retail business.
Objective: The study will explore the planned economic development initiatives and determine if the roadway has enough capacity to handle the planned economic growth and corresponding increase in traffic.