Maryland I-95 Travel Plazas - Events
January 13, 2014: Lt. Governor Brown, Senator Cardin & Private Sector Partners Preview and Tour New $30 Million Maryland House Travel Plaza
Public-Private Partnership Supports 400 Construction and 575 Operating Jobs
Lt. Governor Anthony G. Brown, U.S. Senator Ben Cardin, Areas USA CEO Xavier Rabell, Transportation Secretary James T. Smith, Jr., private sector representatives and other State and local officials toured the new $30 million Maryland House Travel Plaza along I-95 in Harford County on January 13th. Through an innovative Public-Private Partnership (P3) with the Maryland Transportation Authority (MDTA), Areas USA is investing approximately $56 million to redesign and rebuild the Maryland House and Chesapeake House travel plazas on the JFK Memorial Highway (I-95) in northeastern Maryland.
The Maryland House officially opened Jan. 20th, at which time the Chesapeake House Closed for reconstruction.
"With private-sector ingenuity and teamwork, we used a creative Public-Private Partnership to rebuild two aging travel plazas, create jobs and meet the transportation needs of our State," said Lt. Governor Brown. "Even in tough economic times, our Administration has sought innovative approaches, like Public-Private Partnerships, to deliver crucial transportation projects that rebuild our infrastructure, put people back to work and strengthen our economy."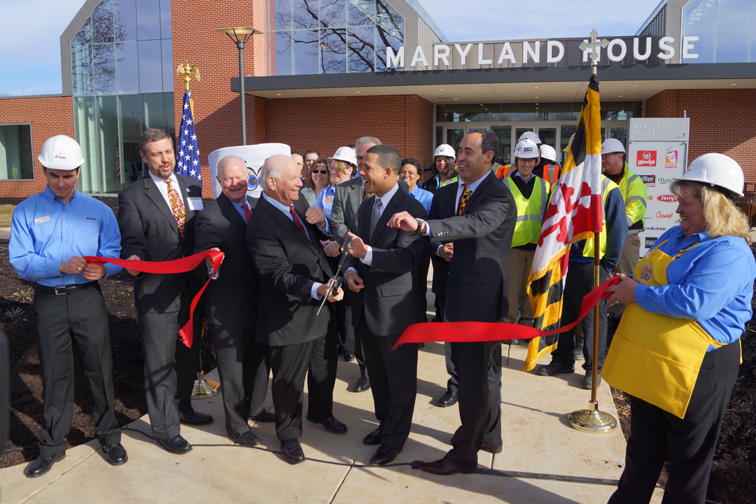 Maryland House Ribbon Cutting
Left to right: MDTA Executive Director Bruce W. Gartner, MDTA Chairman James T. Smith Jr., Maryland's U.S. Senator Ben Cardin, Lt. Governor Anthony G. Brown, and Areas USA CEO Xavier Rabell
"We're pleased to unveil this exceptional facility and introduce a new level of customer service to the millions of people who visit Maryland's travel plazas each year," said Xavier Rabell, CEO of Areas USA. "Working in conjunction with the Maryland Transportation Authority and our many local partners, we have created an innovative facility that offers classic brands, convenient access and essential services, all within an environmentally sensitive design."
"The new Maryland House will be an oasis for millions of travelers and a foundation for quality jobs and economic growth for Maryland. It's a great example of what can get done when government and the private sector work together to benefit our local communities," said Senator Cardin. "I am confident this project will serve as a model for addressing the complex needs of our State in the future."
"Once again, under the leadership of Governor Martin O'Malley and Lt. Governor Brown, Maryland continues to use innovative approaches to improve our transportation infrastructure and keep pace with the growing needs of our customers," said MDTA Chairman and Transportation Secretary James T. Smith, Jr. "The Areas USA team, with significant local and minority business participation, is delivering modern, attractive facilities with old-fashioned customer service."
Areas USA is partnering with multiple Maryland firms, several of which are minority-owned or women-owned businesses, including:
Ayers Saint Gross - Lead designer, Baltimore;
Clark Construction - Contractor, Bethesda;
Cain Contracting, Inc. - Sub-contractor, Columbia - Minority owned;
WBCM - Civil and traffic engineer, Baltimore;
Aria Environmental, Inc. - Environmental design, Woodbine - Woman owned;
Cagley & Associates - Structural engineer, Rockville - Minority owned;
4 Evergreen Lawncare, LLC - Landscape maintenance, Baltimore - Minority owned; and
NMP Engineering Consultants, Inc. - Water resources engineering, Hunt Valley - Minority owned.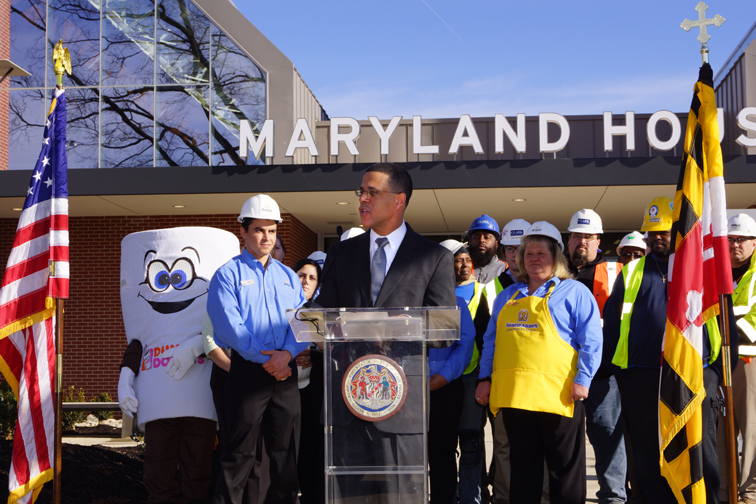 Lt. Governor Anthony G. Brown speaking at the opening
ceremony flanked by Maryland House staff and construction crews.
In addition, Areas USA worked with numerous local community groups in its employment efforts, including hiring nine homeless veterans through the Perry Point Veterans Affairs Medical Center program and several individuals with special needs through the Bayside Community Network.