I-95 Express Toll Lanes
New Lower

E-ZPass
Maryland
Toll Rates Effective July 1, 2015
The I-95 Express Toll Lanes or I-95 ETL is now open. This investment in Maryland's future will give travelers a choice for convenient and reliable travel.
The I-95 ETL, is the second all electronic toll facility in Maryland and will bring much needed traffic relief to one of the most congested portions of I-95 in Baltimore. The I-95 ETL provide eight miles, seven tolled, of generally free-flowing traffic between I-895 and just north of MD 43 (White Marsh Boulevard) in Northeast Baltimore. The existing four General Purpose Lanes in each direction will continue to remain toll free and to keep you moving, tolls are collected automatically at highway speeds using E-ZPass or Video Tolling.
FY 2017 traffic volume - 9 million vehicles.
While the I-95 ETL are expected to be used most during morning and afternoon rush hours and holidays, they are designed to handle increases in traffic volumes well into the future.
FOUR NEW EXPRESS TOLL LANES (2 Northbound/2 Southbound) along 8 miles of I-95 between Baltimore City Line and White Marsh.
THE I-95 IMPROVEMENT PROJECT WITH EXPRESS TOLL LANES (ETL)
PROVIDES BENEFITS TO ALL MOTORISTS WITH:
Safety Upgrades:
Safer travel by eliminating left exits, improving interchanges and reducing congestion
Reconfigure I-95 interchanges at I-895, I-695 and MD 43
Replace two structurally deficient bridges at MD 43
More Travel Options:
Convenient travel choices with option of paying a toll to drive in relatively free-flowing ETL or staying in the existing I-95 lanes with no toll
Reliable travel times
Highway speed tolling via E-ZPass and Video Tolling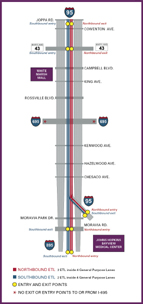 ADDITIONAL INFORMATION:
More documents available on the Document Downloads page.