MDTA Toll Facility Locations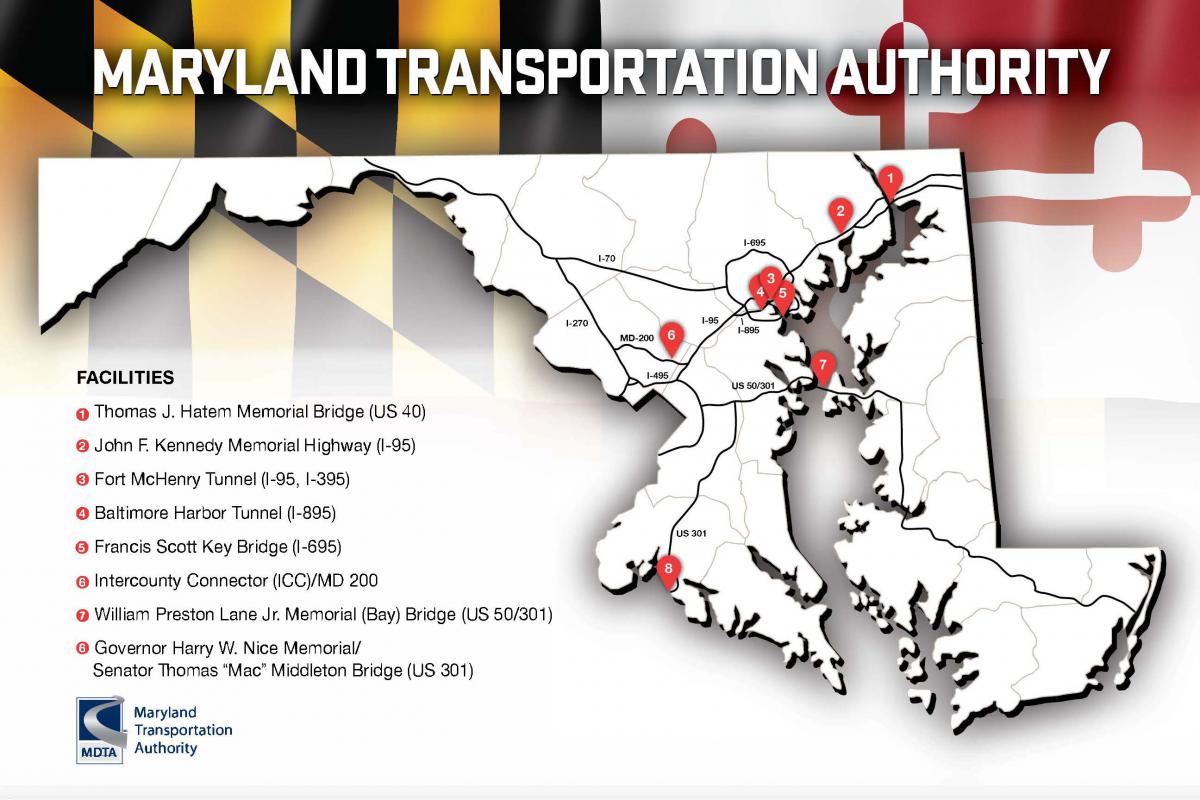 Express Toll Lanes (I-95)
The I-95 ETL, is the second all electronic toll facility in Maryland and will bring much needed traffic relief to one of the most congested portions of I-95 in Baltimore. The I-95 ETL provide eight miles, seven tolled, of generally free-flowing traffic between I-895 and just north of MD 43 (White Marsh Boulevard) in Northeast Baltimore. The existing four General Purpose Lanes in each direction will continue to remain toll free and to keep you moving, tolls are collected automatically at highway speeds using E-ZPass or Video Tolling.
Intercounty Connector (ICC)/MD 200
The Intercounty Connector (ICC)/MD 200, Maryland's first all-electronic toll road, opened on February 23, 2011, between I-370 and Georgia Avenue (MD 97). Tolls on the ICC are paid at highway speeds using E-ZPass and vary by time of day and day of the week, to help maintain relatively free-flowing traffic conditions. The remainder of the roadway from Georgia Avenue (MD 97) to I-95 is expected to open late 2011 or early 2010.
John F. Kennedy Memorial Highway (I-95)
The John F. Kennedy Memorial Highway is a 50-mile section of I-95 from the northern Baltimore City line to the Delaware state line. Tolls are collected only in the northbound direction at the 12-lane toll plaza, located one mile north of the Millard Tydings Memorial Bridge over the Susquehanna River.
Thomas J. Hatem Memorial Bridge (US 40)
The oldest of the Authority's facilities, this four-lane bridge opened in August 1940. It spans the Susquehanna River on US 40 between Havre de Grace and Perryville in northeast Maryland.
Fort McHenry Tunnel (I-95)
The world's widest, underwater-vehicular tunnel, the Fort McHenry Tunnel opened to traffic in November 1985. It connects the Locust Point and Canton areas of Baltimore, crossing under the Patapsco River just south of historic Fort McHenry.
Baltimore Harbor Tunnel (I-895)
The 1.4-mile, four-lane tunnel handled its first vehicles in November 1957 and is part of a 20-mile system of approach roadways and ramps. Designated I-895, the facility connects major north/south highways and many arterial routes in Baltimore City's industrial sections.
Francis Scott Key Bridge (I-695)
This outer crossing of the Baltimore harbor opened in March 1977 as the final link in I-695 (the Baltimore Beltway). Including the bridge and connecting roadways, the project is 10.9 miles in length. Other structures along the roadway include a dual-span drawbridge over Curtis Creek and an elevated viaduct that carries motorists through the Sparrow's Point area.
William Preston Lane Jr. Memorial (Bay) Bridge (US 50/301)
Often called the Bay Bridge, this 4.3-mile facility crosses the Chesapeake Bay as US 50/301. The bridge's dual spans provide a direct connection between recreational and ocean regions located on Maryland's Eastern Shore and the metropolitan areas of Baltimore, Annapolis and Washington, D.C.
Governor Harry W. Nice Memorial/Senator Thomas "Mac" Middleton Bridge
(US 301)
Opened in December 1940, this bridge is located on US 301 and extends 1.7 miles across the Potomac River from Newburg, MD, to Dahlgren, VA.