Executive Director Kevin C. Reigrut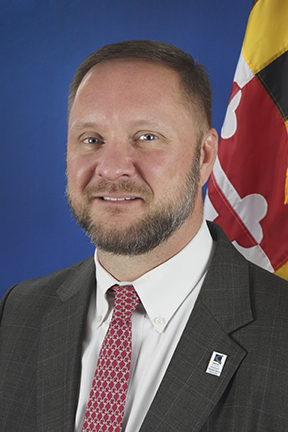 Executive Director Kevin C. Reigrut
The Maryland Transportation Authority (MDTA) Board named Kevin C. Reigrut to lead the 1,700-employee agency that oversees the State's eight toll facilities and the E-ZPass Maryland system effective Jan. 3, 2017. Prior to his role with the MDTA, Mr. Reigrut served as Assistant Secretary of Operations for the Maryland Department of Transportation (MDOT).
Before being named Assistant Secretary of Operations for MDOT in 2014, Mr. Reigrut served as Chief of Staff for U.S. Representative Andy Harris and as Homeland Security Planning and Policy Development Manager for former Governor Robert L. Ehrlich, Jr. He also served as an Associate for Booz/Allen/Hamilton, Inc., and in various roles in the Maryland General Assembly.
Mr. Reigrut graduated from the Maxwell School of Public Citizenship at Syracuse University with a Bachelor of Arts in International Relations. He is also a Board Member of the Tipton Airport Authority, a general aviation facility in Ft. Meade, Md.